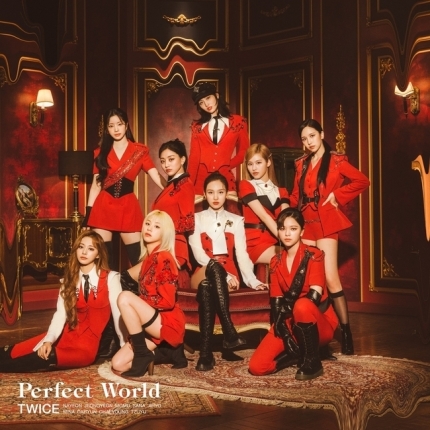 Group TWICE (Jihyo, Nayeon, Jeongyeon, Momo, Sana, Mina, Dahyun, Chaeyoung, Tzuyu) continues their activities in Japan.
According to their agency JYP Entertainment, TWICE will release their 3rd full-length Japanese album, 'Perfect World' on July 28.
It is the first time in about two years that TWICE will release a full-length album in Japan. Earlier, in November 2019, they released their 2nd regular album '&TWICE,' which included the title song 'Fake & True.' It swept the top of the local music charts.
With this 3rd full album, they will surely dominate various charts without fail. The title song 'Perfect World,' released on June 30 before the official album release, was also popular. With this new song, TWICE topped Japan's real-time music sites such as Line Music and AWA. TWICE also took the top spot on the Line Music Weekly Top 100 Chart (based on June 30 – July 6, 2021).
'Perfect World' is a song characterized by a fast-paced sound. TWICE received favorable reviews for delivering a confident message, 'Even in shaky situations, we will not be shaken, and we will face each other confidently.'
TWICE successfully completed its domestic activities. They released their 10th mini-album, 'Taste of Love' on June 11. Then, they entered 6th place on the US Billboard's main album chart, 'Billboard 200,' on June 26. Also, it landed at #60 on the chart on July 3rd and #90 on the chart on July 10th. It makes them listed on the main chart for three weeks in a row.
Not only that, but TWICE succeeded in ranking in a total of 11 categories on the Billboard chart. They ranked 6th in 'Top Current Album Sales' and 7th in 'Top Album Sales,' proving its long-run popularity.
TWICE also sang the 4th OST 'I Love You More Than Anyone' of the tvN Thursday drama 'Hospital Playlist 2,' which they released on July 9th.
The OST is a remake of the title song 'I Love You More Than Anyone Else' of the 2nd regular album released in 1999 by Bijou, a mixed group that debuted in 1998. It is the first time since their debut that TWICE has appeared as an OST singer as a whole group.
Read More About: GFRIEND Yerin Paid Homage To Hyori Lee Through A Pictorial
2021 kpop
,
2021 kpop girl idols
,
2021 kpop news
,
2021 kpop news updates
,
2021 kpop updates
,
2021 news kpop
,
2021 updates on kpop
,
KPOP
,
Kpop artist
,
Kpop artists
,
Kpop news
,
Kpop trend
,
Kpop trending
,
KPop trending news
,
Kpop trending now
,
kpop trending update
,
KPop_Twice
,
KPOP2021
,
KPOPIDA
,
KPOPNEWS
,
Trending
,
trending 2021
,
trending kpop
,
Trending Kpop news
,
trending kpop update
,
trending news
,
trending update kpop
,
TWICE
,
twice 10th album
,
twice comeback
,
twice comeback album
,
TWICE KPOP NEWS
,
twice news
,
Twice_KPOP
,
twice_taste of love