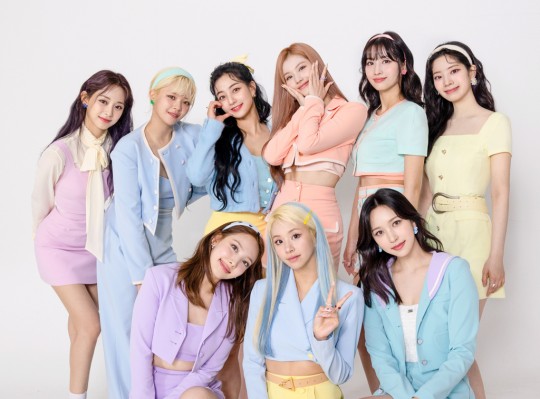 Kpop group TWICE ranked on the top of the three main charts of the US Billboard for two consecutive weeks.
According to Billboard's announcement on its official website on November 30 (KST), TWICE's third full-length album 'Formula of Love,' released on November 12, ranked 16th in one the Billboard's top three main charts, 'Billboard 200' on December 4. Previously, the album ranked third on 'Billboard 200' on November 27, setting its own best record, achieving a sharp rise. Also, it ranked 54th on another Billboard main chart, 'Artist 100,' which comprehensively counts and ranks artists' performance. So, they ranked on the chart for two consecutive weeks.
TWICE's 3rd full-length album and title song 'SCIENTIST' ranked 5th in 'Top Album Sales,' 5th in 'Top Current Album Sales,' 7th in 'TasteMaker Album,' 106th in 'Billboard Global 200,' 65th in 'Billboard Global,' and 14th in 'Hot Trending Songs Powered by Twitter.' Notably, the first English single, 'The Feels,' released in October, gained popularity as it ranked 61st in 'Billboard Global 200' and 37th in 'Billboard Global (excluding the US).'
TWICE achieved a series of favorable results on the US Billboard chart in 2021, putting greater wings on global growth. 'The Feels,' the first English single, ranked 83rd in the Billboard 'Hot 100' on October 16. It entered the Billboard chart for the first time and shone as the first Kpop girl group to reach the Billboard Hot 100 in 2021. 'Taste of Love,' the 10th mini-album, released on June 11 this year, entered 6th place on June 26 on 'Billboard 20.' It set the highest performance in the history of mini-albums released by Kpop girl groups.
TWICE's third full-length album 'Formula of Love' contains a total of 17 songs. It includes their first unit song since their debut, Nayeon, Jihyo, Dahyun, and Chaeyoung's first unit song, and the fan song they sang with love for fans.
They completed the title song 'SCIENTIST' along with brilliant writers such as Tommy Brown, a British singer-songwriter and pop star Anne Marie, and Kpop hitmaker Eunji Shim. In addition, the new song provided pleasant energy with a bouncy song expressing the only love formula.
Meanwhile, TWICE will host 'TWICE 4TH WORLD TOUR 'III' and meet fans who have waited for a long time. The tour will open at KSPO DOME (Olympic Park) in Songpa-gu, Seoul, for three days from December 24 to 26. They will continue performances in five US cities, including Los Angeles, Oakland, Dallas, Atlanta, and New York, in February 2022. Also, Kpop group TWICE will surely announce additional areas for concerts in the future. So, it is raising the expectations of Korean and foreign fans. General reservations for Seoul performances will open at YES24 from 8 pm on December 3.
Read More About: Jessi Attracts Netizens' Attention With Her Sexy Photos
2021 kpop news
,
2021 kpop news updates
,
2021 news kpop
,
best kpop news site
,
breaking news kpop
,
daily kpop news
,
Korean celeb news
,
KPOP
,
Kpop artist
,
kpop celebrity news
,
Kpop chart and news
,
kpop daily news
,
Kpop group TWICE
,
Kpop idols
,
Kpop latest news
,
Kpop news
,
Kpop news articles
,
kpop news update
,
Kpop recent news
,
Kpop trending
,
KPop trending news
,
Kpop TWICE
,
KPop_Twice
,
KPOP2021
,
KPOPIDA
,
KPOPNEWS
,
Kpopnews 2021
,
Trending Kpop news
,
trending news
,
TWICE
,
twice 10th album
,
Twice baby photos
,
twice comeback
,
twice comeback album
,
Twice Jihyo
,
TWICE KPOP NEWS
,
twice member sana
,
twice members
,
twice news
,
TWICE_DAHYUN
,
Twice_Jihyo
,
Twice_KPOP
,
twice_momo
,
TWICE_SANA
,
twice_taste of love
,
Twice_TZUYU