The group TWICE showed off their refreshing charm in Jeju Island. It is where they filmed the music video for their new song 'Alcohol-Free.'
TWICE made a comeback with the new album 'Taste of Love' and the title song 'Alcohol-Free' on July 11. So, they spread cool and refreshing charm to domestic and foreign fans.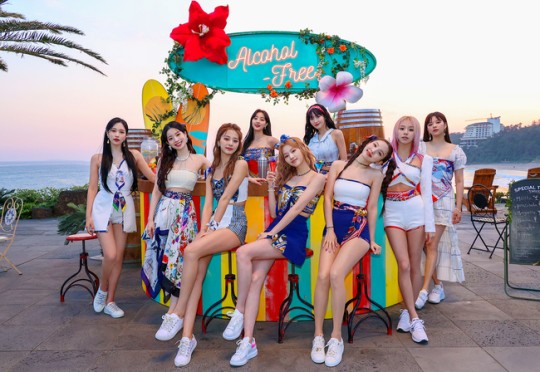 The music video for 'Alcohol-Free' captures the beauty of the nine members in the background of Jeju Island. TWICE, captured at the music video site, performed a choreography formation behind the blue sea and green palm trees. So, they enjoy the music between colorful fireworks, giving off the mood of a music festival on a midsummer day.
Nayeon, Jeongyeon, Momo, Sana, Jihyo, Mina, Dahyun, Chaeyoung, and Tzuyu smiled brightly as they bumped cocktail glasses, raising it high. In the cut staring at the camera, they showed off their splendid visuals.
The music video of 'Alcohol-Free' surpassed 76.45 million views on the afternoon of June 15th. It raises expectations for achieving '15 consecutive 100 million views' based on the music video of their active song. It is gaining popularity by capturing TWICE's beauty and providing eye-pleasing and ear-pleasing Bossa Nova-style comfortable melody. The new song's performance, which features waves and passionate Latin dance moves, also increases its power to the music fans.
Also, it achieved remarkable results in various domestic and international charts. The 10th mini-album 'Taste of Love' topped the daily chart of the Hanteo Chart album as of June 14th. It is the fourth day of its release. As of the morning of June 15th, the title song 'Alcohol-Free' topped the real-time charts of various music sites. It includes Bugs, Melon, Genie Music, and Flo. Besides, the music video topped YouTube's music video trending worldwide on the morning of June 12th. In addition, it maintained its No. 1 popularity in Korea as of the afternoon of June 15th.
In fact, JYP Entertainment's representative producer Jinyoung Park wrote, compose, and arrange the title song 'Alcohol-Free.'
Then, the hit song maker Melanie Joy Fontana, and Jade Thirlwall, a Little Mix member, participated in the song completion.
Also, Chloe Latimer, who has worked with several famous artists, including IU and OH MY GIRL, and DEUX's Hyundo Lee, who has produced numerous hit songs, added their touches to increase the level of perfection.
On top of that, TWICE members themselves wrote all the songs in the album.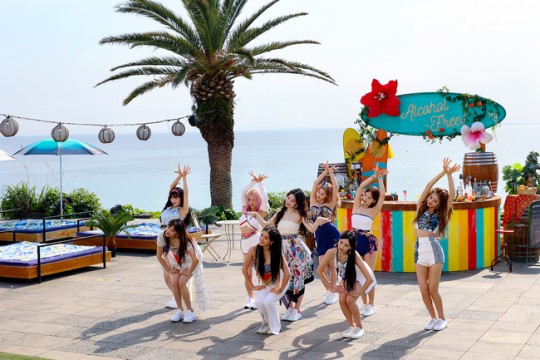 Read More About: RAVI 'CARDIGAN' Enters US Billboard World Digital Song Sales Chart
2021 kpop girl idols
,
2021 kpop news
,
2021 kpop news updates
,
2021 kpop updates
,
2021 updates on kpop
,
KPOP
,
Kpop 2021
,
Kpop artist
,
Kpop artists
,
Kpop idols
,
Kpop news
,
Kpop trend
,
Kpop trending
,
KPop trending news
,
Kpop trending now
,
KPOP2021
,
Kpopall
,
KPOPIDA
,
KPOPNEWS
,
trending kpop
,
Trending Kpop news
,
trending kpop update
,
trending update kpop
,
TWICE
,
twice 10th album
,
twice comeback
,
twice comeback album
,
Twice Jihyo
,
TWICE KPOP NEWS
,
twice news
,
TWICE_DAHYUN
,
Twice_KPOP
,
TWICE_SANA
,
twice_taste of love
,
Twice_TZUYU