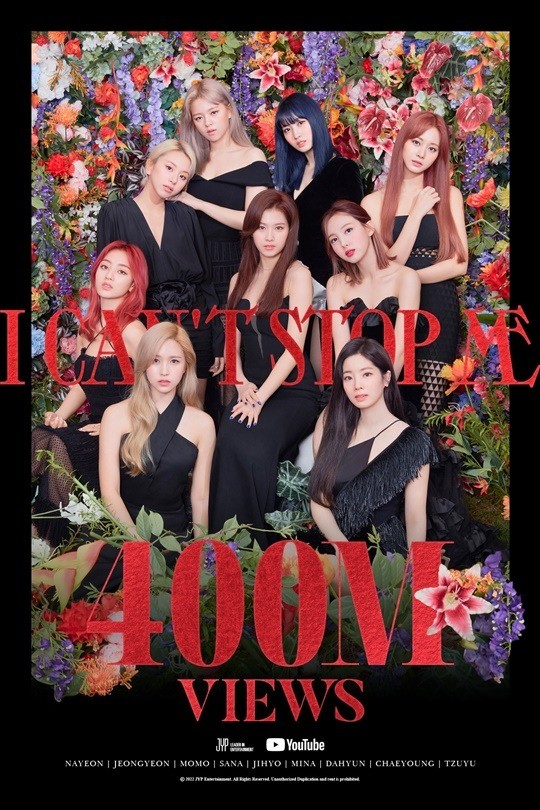 Kpop group TWICE's 'I CAN'T STOP ME' music video has surpassed 400 million views on YouTube.
The title song 'I CAN'T STOP ME' from the second full album 'Eyes Wide Open,' released on October 26, 2020, has exceeded 400 million YouTube views around 12:29 pm on January 30. As a result, TWICE has its 9th 400 million views music video. It includes TT, LIKEY, What is Love?, CHEER UP, FANCY, OOH-AHH, Heart Shaker, and Feel Special.
JYP Entertainment's representative producer Jinyoung Park and Kpop hit song maker Eunji Shim wrote the song 'I CAN'T STOP ME' together. The song capture special feelings that are difficult to control while conflicting at the crossroads of good and evil. It is a retro synthwave genre that combines European electronic sounds with American 80s synth sounds. It features addictive melodies and powerful performances. TWICE enjoyed worldwide popularity, ranking 72nd in Billboard's main chart, 'Billboard 200', with two full albums containing the song. Also, it ranked on the 'Billboard Global 200' chart for 15 consecutive weeks with 'I CAN'T STOP ME.'
TWICE, a' Kpop representative girl group,' is also on a global rise in 2022. On January 25, the first English single 'The Feels' surpassed 200 million views. Then, followed by a new record of two music video views in January alone with 400 million views of 'I CAN'T STOP ME.'
The title song SCIENTIST music video of its third full-length album, 'Formula of Love: O+T=<3,' released on November 12, 2021, is also on the verge of 100 million views with more than 92.84 million views as of 7 am on January 31. TWICE has a new record of having more than 100 million views of music videos among female groups worldwide. So, they will once again raise their reputation.
TWICE announced surprise news ahead of its new world tour 'TWICE 4TH WORLD TOUR 'II' in February. On February 4, they will release the new remix song 'The Feels (Benny Benassi Remix).'
It is in collaboration with famous Italian DJ and producer Benny Benassi. TWICE's first overseas concert venue of the world tour will be a meaningful gift for global fans who have waited for TWICE for a long time. Also, it will be a celebration event of the 'seven performances in five cities sold out.'
Also, on March 16, TWICE will release their Japan fourth best album '#TWICE4.'
They completed the album with gratitude for local fans who always send great love. It includes Korean and Japanese versions of I CAN'T STOP ME, CRY FOR ME, Alcohol-Free, and SCIENTIST. TWICE, which marks its fifth anniversary this year, plans to carry out a variety of projects in 2022. It includes a DVD commemorating the fifth anniversary of its debut in May and the release of its fourth full-length Japanese album in July.
Kpop group TWICE opened its fourth world tour at KSPO DOME in Songpa-gu, Seoul, on December 25 and 26 last year. They will hold seven performances in five US cities, including Los Angeles on February 15-16, Oakland on February 18, Fort Worth on February 22, Atlanta on February 24, and New York on February 26. Then, in Japan, TWICE will perform on April 23 and 24 at the Tokyo Dome, a concert hall with symbolic meaning.
Read More About: Youngwoong Lim, 'My Heart Will Go On' Performance Video Surpasses 2 Million Views
best Kpop girl group
,
best kpop news site
,
best kpopstar
,
breaking news kpop
,
daily kpop news
,
Fandom
,
Hip-hop Idol JIN
,
Jin
,
JIN news
,
Korean celeb news
,
Korean singer
,
Korean singer songwriter
,
KPOP
,
Kpop album
,
Kpop beauty routine
,
Kpop boy group
,
kpop celebrity news
,
Kpop chart and news
,
Kpop colllaboration
,
KPOP comeback
,
Kpop current news
,
kpop daily news
,
Kpop fashion
,
Kpop girls group
,
kpop idol JIN
,
Kpop idols
,
Kpop issues
,
Kpop latest news
,
Kpop music chart
,
Kpop news
,
Kpop news articles
,
Kpop news sites
,
kpop news update
,
Kpop recent news
,
Kpop skin care routine
,
Kpop skincare routine
,
KPop trending news
,
KPOPNEWS
,
Singer JIN
,
South Korean singer songwriter
,
the best kpop girl group
,
the best kpop girl group of 2021
,
the best kpop group of 2021
,
the top kpop group
,
top kpop boy group
,
top kpop girl group