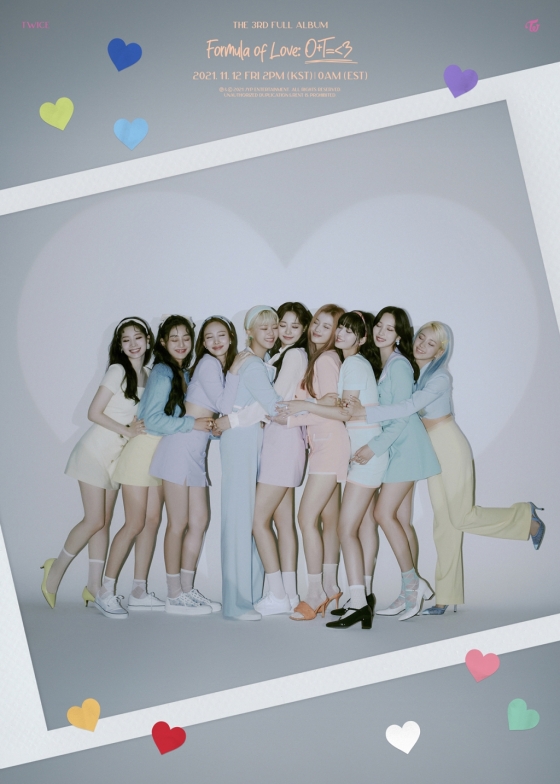 Kpop group TWICE broke its own record once again as it surpassed 700,000 pre-orders with its 3rd full-length album 'Formula of Love: O+T=<3.'

TWICE's new album 'Formula of Love: O+T=<3,' which will be released on November 12, recorded 630,000 pre-orders on November 8 and exceeded 700,000 as of November 10. This increased more than 200,000 copies compared to the previous 'Taste of Love,' and TWICE proved its popularity by breaking its own record in two days.

In 2021, TWICE achieved a global career-high and entered a major growth phase. With its 10th mini-album, 'Taste of Love,' released on June 11, it ranked sixth on the Billboard 200 chart, setting the highest performance in the history of mini-albums released by Kpop girl groups, and ranked ninth on the Billboard Artist 100 chart.


Following the momentum, TWICE entered the Billboard Hot 100 chart at 83rd and the UK Official Chart at 80th with its first English single 'The Feels,' released on October 1, and surpassed 50 million cumulative streaming worldwide in 36 days after its release on Spotify, a global music streaming platform. It also ranked 60th on the Spotify Global Top 200 chart on November 7, 26th on the Billboard Global (excluding the US) chart, and 41st on the Billboard Global 200 chart on November 13.


Kpop group TWICE, which proved its worldwide popularity with its mini-album released this year and first English single, will release its 3rd full-length album 'Formula of Love: O+T=<3' at 2 pm on November 12, and bloom splendidly on its steady growth history.
Read More About: Stray Kids Surprise Released The Poster For 'Christmas EveL' Project
2021 kpop news
,
2021 kpop updates
,
KPOP
,
Kpop 2021
,
Kpop artist
,
Kpop artists
,
Kpop group TWICE
,
Kpop idols
,
Kpop news
,
KPop treasure
,
Kpop trend
,
Kpop trending
,
KPop trending news
,
Kpop trending now
,
kpop trending update
,
Kpop TWICE
,
KPop_Twice
,
KPOP2021
,
Kpopall
,
KPOPIDA
,
KPOPNEWS
,
trending 2021
,
trending kpop
,
Trending Kpop news
,
trending kpop update
,
trending news
,
trending update kpop
,
TWICE
,
twice 10th album
,
Twice baby photos
,
twice comeback
,
twice comeback album
,
Twice Jihyo
,
TWICE KPOP NEWS
,
twice member sana
,
twice members
,
twice news
,
TWICE_DAHYUN
,
Twice_Jihyo
,
Twice_KPOP
,
twice_momo
,
TWICE_SANA
,
twice_taste of love
,
Twice_TZUYU