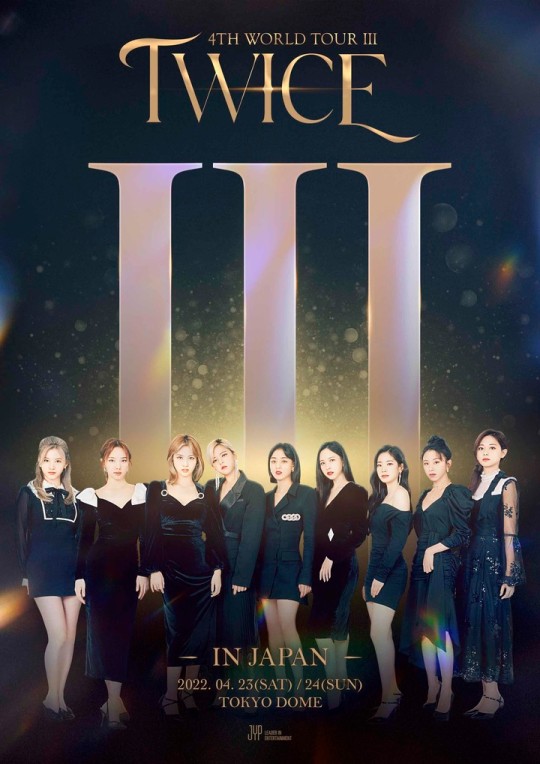 Kpop group TWICE has confirmed their second concert at the Tokyo Dome in Japan in April next year. 
According to JYP Entertainment, on December 27, TWICE will hold a concert at the Tokyo Dome in Japan as part of the '4th World Tour III' on April 23 and 24, 2022.
It is the first meeting in about two years since 'TWICE WOLRD TOUR 2019 'TWICELIGHTS' IN JAPAN' with 15 performances in 7 cities in Japan.
Earlier, they held a solo concert at the Tokyo Dome in March 2019. Also, they were able to perform at the Tokyo Dome in the shortest time since their debut as an overseas artist.
Meanwhile, Kpop group TWICE recently sold out all tickets for the US concert to take place in February 2022. On December 25-26, TWICE had the first performance of 'TWICE 4TH WORLD TOUR 'Ⅲ' at KSPO DOME in Seoul. They met offline with fans after a long time and shared meaningful times.
Read More About: Jaehwan Kim Unveils 'Unforgettable' MV Teaser Ahead Of Album's Release
2021 kpop news
,
2021 kpop news updates
,
best kpop news site
,
breaking news kpop
,
BTS trending news
,
daily kpop news
,
Korean celeb news
,
KPOP
,
Kpop artist
,
Kpop artists
,
kpop celebrity news
,
Kpop chart and news
,
Kpop current news
,
kpop daily news
,
Kpop group TWICE
,
Kpop idols
,
Kpop latest news
,
Kpop news
,
Kpop news articles
,
Kpop news sites
,
kpop news update
,
Kpop recent news
,
KPop treasure
,
Kpop trend
,
Kpop trending
,
KPop trending news
,
Kpop trending now
,
kpop trending update
,
Kpop TWICE
,
KPop_Twice
,
KPOP2021
,
KPOPIDA
,
KPOPNEWS
,
Trending
,
trending 2021
,
trending kpop
,
Trending Kpop news
,
trending kpop update
,
trending news
,
trending update kpop
,
TWICE
,
twice 10th album
,
Twice baby photos
,
twice comeback
,
twice comeback album
,
Twice Jihyo
,
TWICE KPOP NEWS
,
twice member sana
,
twice members
,
twice news
,
TWICE_DAHYUN
,
Twice_Jihyo
,
Twice_KPOP
,
twice_momo
,
TWICE_SANA
,
twice_taste of love
,
Twice_TZUYU