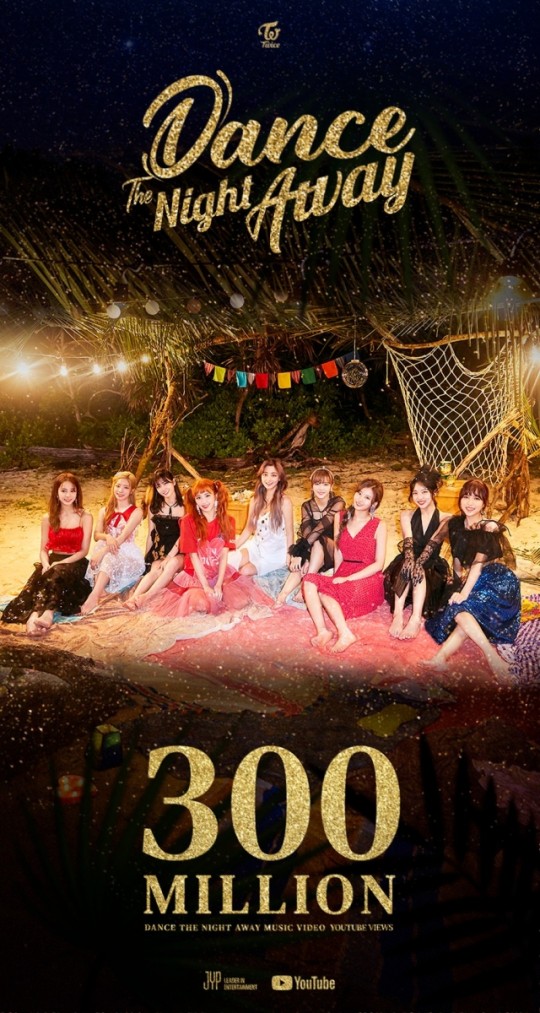 Kpop group TWICE's 'Dance The Night Away' music video has surpassed 300 million views on YouTube.
According to JYP Entertainment, on August 29th, the music video for the title song 'Dance The Night Away' of the second special album 'Summer Nights' released on July 9, 2018, exceeded 300 million views on YouTube around 11:13 pm on August 28th.
As a result, TWICE has a total of 11 music videos that have surpassed 300 million views. It includes the songs 'Like OOH-AHH,' 'CHEER UP,' 'TT,' 'LIKEY,' 'What is Love?,' 'Heart Shaker,' 'FANCY,' 'Feel Special,' 'YES or YES,' 'I CAN'T STOP ME,' followed by 'Dance The Night Away.'
'Dance The Night Away' is an up-tempo pop song with a refreshing atmosphere. This song is also popular abroad. On August 24th, it received gold certification from the Recording Industry Association of Japan (RIAJ), achieving TWICE's 10th gold record in its career. Gold is based on works that have accumulated more than 50 million views.
On October 1st, TWICE will release their first English single, 'The Feels' worldwide, and begins their global movement. The mini-album 'Taste of Love,' released in Korea on June 11th, entered 6th place on the US Billboard's main chart 'Billboard 200' on June 26. They are setting the highest record for mini albums released by K-pop girl groups. So far, this was their best album ever recorded. In addition, Kpop group TWICE is sweeping various overseas charts. On the 'Artist 100' chart, another Billboard main chart, they ranked 9th, recording their own highest ranking.
Read More About: Muse On 2021' Musicians Are Currently In Active Music Projects
KPOP
,
Kpop artist
,
Kpop artists
,
Kpop group TWICE
,
Kpop idols
,
Kpop news
,
Kpop trend
,
Kpop trending
,
KPop trending news
,
Kpop trending now
,
kpop trending update
,
Kpop TWICE
,
KPop_Twice
,
KPOP2021
,
KPOPIDA
,
KPOPNEWS
,
Trending
,
trending 2021
,
trending kpop
,
Trending Kpop news
,
trending kpop update
,
trending news
,
trending update kpop
,
TWICE
,
twice 10th album
,
Twice baby photos
,
twice comeback
,
twice comeback album
,
Twice Jihyo
,
TWICE KPOP NEWS
,
twice member sana
,
twice members
,
twice news
,
TWICE_DAHYUN
,
Twice_Jihyo
,
Twice_KPOP
,
twice_momo
,
TWICE_SANA
,
twice_taste of love
,
Twice_TZUYU