Kpop group TWICE will release a new single in Japan on December 15. JYP Entertainment announced on October 15 through TWICE's official Japanese social media channel, "TWICE will release the ninth single 'Doughnut' on December 15."
'Doughnut' is the title song of TWICE's first ballad genre single in Japan, raising the expectations of Japanese fans. TWICE, which presents various charms, such as changing the concept for each album and releasing the first English single since their debut, is coming to the fans with a new song with a warm year-end atmosphere.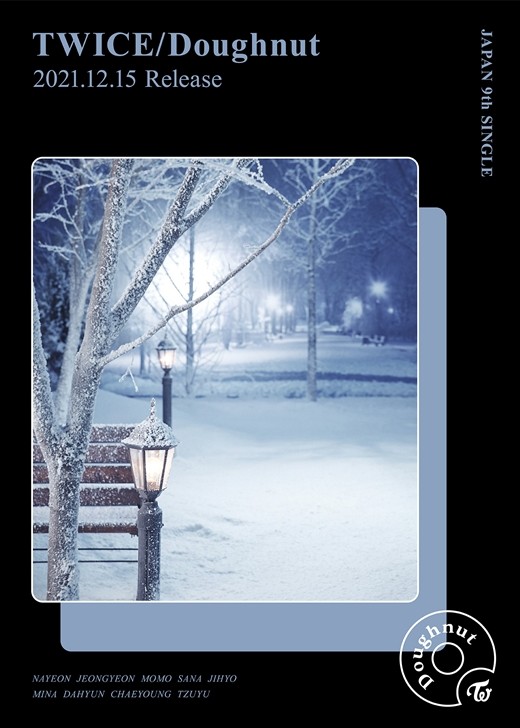 Meanwhile, their first English single, 'The Feels,' released on October 1, has been gaining popularity globally. It is making its name on major overseas charts. 'The Feels' ranked 83rd on the US Billboard's main chart 'Hot 100' on the latest chart. Also, it became a hot topic when it first entered the 'Official Singles Chart Top 100' of the UK's latest UK chart at number 80.
On November 12, Kpop group TWICE will release their third full-length album, 'Formula of Love: O+T=<3.'
Read More About: DRIPPIN Dongyun Kim Covers Geeks' 'Officially Missing You'
2021 kpop news
,
2021 kpop updates
,
KPOP
,
Kpop 2021
,
Kpop artist
,
Kpop artists
,
Kpop group TWICE
,
Kpop idols
,
Kpop news
,
Kpop trend
,
Kpop trending
,
KPop trending news
,
Kpop trending now
,
Kpop TWICE
,
KPop_Twice
,
KPOP2021
,
Kpopall
,
KPOPIDA
,
KPOPNEWS
,
trending kpop
,
Trending Kpop news
,
trending kpop update
,
trending update kpop
,
TWICE
,
twice 10th album
,
Twice baby photos
,
twice comeback
,
twice comeback album
,
Twice Jihyo
,
TWICE KPOP NEWS
,
twice member sana
,
twice members
,
twice news
,
TWICE_DAHYUN
,
Twice_Jihyo
,
Twice_KPOP
,
twice_momo
,
TWICE_SANA
,
twice_taste of love
,
Twice_TZUYU