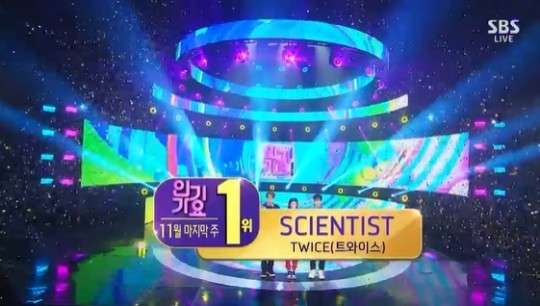 Kpop group TWICE won the 1st place trophy on SBS Inkigayo. IU, TWICE, and AESPA were nominees for 1st place on SBS 'Inkigayo' broadcast on November 28. Soon after, TWICE became the main character of the day, taking the first place.
Although they did not appear on the show that day, they got the honor of taking 1st place.
Meanwhile, on this day's 'Inkigayo,' GHOST9, DKB, MONSTA X, Blitzers, B.I.G, Billlie, ICHILLIN, SF9, E`LAST, ONEUS, Weki Meki, Woohyuk Jang, JUST B, Hyesun Jo, and MAMAMOO Hwasa appeared to set colorful performances.
Read More About: Hyeri Boasts Her Friendship With Actor Kiyong Jang
actress IU
,
B.I.G
,
B.I.G members
,
B.I.G news
,
best Kpop girl group
,
best kpop news site
,
best kpopstar
,
Boys In Groove
,
breaking news kpop
,
daily kpop news
,
Fandom
,
Gunmin
,
Heedo
,
IU
,
IU news
,
iu songs
,
iu tv
,
IU updates
,
iu works
,
J-Hoon
,
Jieun Lee
,
Jinseok
,
Jooheon
,
Kiss Or Death
,
Korean celeb news
,
Korean singer
,
Korean singer songwriter
,
KPOP
,
Kpop album
,
kpop b.i.g
,
Kpop beauty routine
,
Kpop boy group
,
kpop celebrity news
,
Kpop chart and news
,
Kpop colllaboration
,
KPOP comeback
,
Kpop current news
,
kpop daily news
,
Kpop fashion
,
Kpop girls group
,
kpop group B.I.G
,
kpop group ONEUS
,
Kpop idols
,
Kpop issues
,
Kpop IU
,
Kpop latest news
,
kpop monsta x
,
Kpop music chart
,
Kpop news
,
Kpop news articles
,
Kpop news sites
,
kpop news update
,
KPOP ONEUS
,
Kpop recent news
,
Kpop skin care routine
,
Kpop skincare routine
,
KPop trending news
,
KPOPNEWS
,
Minpyo
,
MONSTA X
,
MONSTA X member
,
MONSTA X members
,
monsta x news
,
MONSTA X updates
,
ONEUS
,
ONEUS members
,
ONEUS news
,
Oneus Theatre
,
Shut Up Crazy Hot
,
singer IU
,
South Korean singer songwriter
,
Summer Taste
,
the best kpop girl group
,
the best kpop girl group of 2021
,
the best kpop group of 2021
,
the top kpop group
,
top kpop boy group
,
top kpop girl group