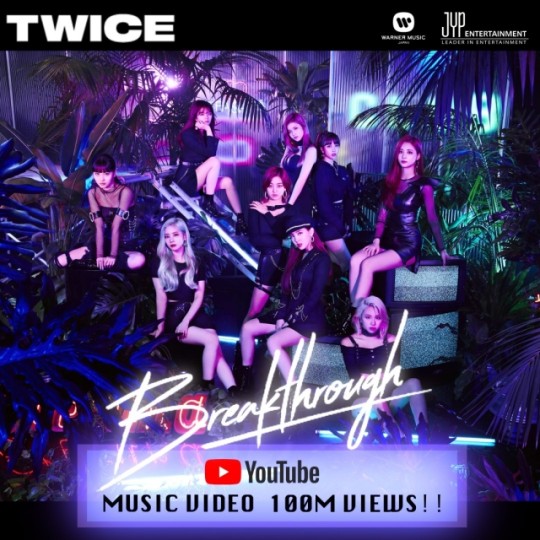 The group TWICE has achieved the record of being the girl group with the largest number of music video views in the world.
JYP Entertainment, the group's agency, announced on May 19th that the music video for the Japanese song 'Breakthrough' surpassed 100 million views on YouTube on May 15th.
It is TWICE's 17th music video worth billions of views in a year and 10 months since its release in July 2019.
It surpassed the record of Little Mix, which has 16 million views music videos. So, TWICE holds the record of the most music video views among girl groups in the world.
TWICE has been strong in the music field, with more than 100 million views on music videos of all active songs. This includes 'TT' with 600 million views, 'Likey' with 500 million views, along with the songs 'What Is Love?' 'Cheer Up' and 'Fancy.'
TWICE will release their new Korean mini-album 'Taste of Love' on the 11th of June. Also, they will release their 3rd full-length Japanese album 'Perfect World' on July 28th.
Read More About: Seunghwan Jung 'Five Words Left Unsaid' Tracklist Released
KPOP
,
Kpop 2021
,
Kpop artist
,
Kpop artists
,
Kpop idols
,
Kpop news
,
Kpop trend
,
Kpop trending
,
KPop trending news
,
Kpop trending now
,
kpop trending update
,
KPOP2021
,
Kpopall
,
KPOPIDA
,
KPOPNEWS
,
Trending
,
trending 2021
,
trending kpop
,
Trending Kpop news
,
trending kpop update
,
trending news
,
trending update kpop
,
TWICE
,
twice 10th album
,
twice comeback
,
twice comeback album
,
Twice Jihyo
,
twice news
,
Twice_Jihyo
,
Twice_KPOP
,
twice_taste of love
,
Twice_TZUYU