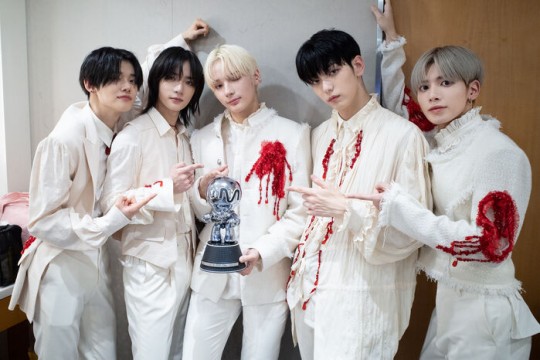 The '4th generation idol representative' TOMORROW X TOGETHER (TXT) won on 3 music shows.
TOMORROW X TOGETHER (Soobin, Yeonjun, Beomgyu, Taehyun, Hueningkai) performed the title song '0X1=LOVESONG (I Know I Love You) feat. Seori (Zero by One Love Song)' of their 2nd regular album 'The Chaos Chapter: FREEZE' on Mnet 'M Countdown' broadcast on June 10th. They took first place. As a result, TOMORROW X TOGETHER holds their third No. 1 trophy after winning on SBS MTV 'THE SHOW' on June 8th and MBC Every1 'Show! Champion' on June 9th.
TOMORROW X TOGETHER said, "We sincerely thank and miss the MOA for giving us such a valuable award once again. Also, we want to thank producer Sihyuk Bang and the company members for always working hard for us. We will become TOMORROW X TOGETHER who always works hard."
In the broadcast on this day, they completed the performance with abundant expression and made a stronger presentation. They presented a movie-like performance that combines dynamic yet delicate group dance. Also, the five members' facial expressions depict flexible emotional lines. They expressed the love of an anxious boy who has scars on his soul.
TOMORROW X TOGETHER moves forward as the 'fourth-generation idol representative' who leads K-pop on various music charts. In addition, they broke their own record by surpassing 630,000 album sales in the first week of their comeback. 'The Chaos Chapter: FREEZE' ranked 4th on the latest Billboard 'World Albums' chart, 3rd on Spotify's 'Top 10 Global Album Debut' chart, and 3rd on the 'Top 10 USA Album Debut' chart. And, on June 7, the album reached the top of the Oricon Daily Album Chart.
Also, the title song topped the Japanese Line Music weekly top song chart (2021.06.02-2021.06.08), ranked 113th on Billboard Global (excluding the U.S.), 167th on Billboard Global, and 3rd on the World Digital Song Sales chart. Then, on its release day, it reached number 89 on the Spotify 'Global Top 200' chart, maintaining its chart-in status for 9 days.
Read More About: BTS Jimin Serenade Fans On 'BTS Room Live' Captivating ARMY Worldwide
2021 kpop
,
2021 kpop news
,
2021 kpop news updates
,
2021 kpop updates
,
2021 news kpop
,
2021 updates on kpop
,
KPOP
,
Kpop 2021
,
Kpop artist
,
Kpop artists
,
Kpop idols
,
Kpop news
,
Kpop trend
,
Kpop trending
,
KPop trending news
,
Kpop trending now
,
kpop trending update
,
KPOP2021
,
Kpopall
,
KPOPIDA
,
KPOPNEWS
,
Kpopnews 2021
,
Tomorrow_By_Together
,
Trending
,
trending 2021
,
trending kpop
,
Trending Kpop news
,
trending kpop update
,
trending news
,
trending update kpop
,
TXT
,
txt album
,
txt hueningkai
,
TXT KPOP
,
txt members
,
TXT News
,
txt soobin
,
txt taehyun
,
txt yeonjun