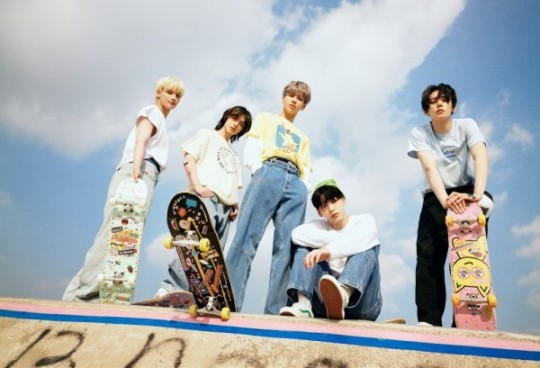 The Kpop group TOMORROW X TOGETHER (TXT) sings the OST of the VFX animation 'Armored Saurus.'
TOMORROW X TOGETHER (Soobin, Yeonjun, Beomgyu, Taehyun, and HUENINGKAI) sang 'EYES,' the theme song of the Korean VFX animation 'Armored Saurus.'
 'EYES' is a song that creates a different atmosphere with the rhythm of the Moombahton genre. It conveys the message, 'Let's work together and win through friendship.'
The attractive voices and powerful vocals of the five members of TOMORROW X TOGETHER blend well with the lyrics containing friendship, hope, and growth. So, it boasts extreme suction power. The rhythmical melody and the lyrics "Open your closed eyes" were repeated to complete the addictive chorus.
TOMORROW X TOGETHER has participated as a singer in OSTs of various dramas. In November last year, they sang 'Your Light,' the first OST and main theme song of JTBC's mini-series 'Live On.'
This is a song about cheering for the shining moment of the 18-year-old. It presents overwhelming emotions from the moment you hear it with a message of sympathy and support from the conflicting personality of 18 years old.
In May, they sang the second OST 'Love Sight' of the tvN drama 'Doom At Your Service.'
It is a song that expresses all the emotions you feel when you see your loved one. TOMORROW X TOGETHER expresses the excitement of the first moment when love begins in a soft voice and the sad longing for not being with your loved one.
The VFX animation 'Armored Saurus,' which Kpop group TOMORROW X TOGETHER sang the theme song 'EYES,' will premiere on SBS at 5:50 pm today, November 4.
Read More About: LABOUM Jinye Showed A Wonderful Performance On Their Comeback Showcase
2021 kpop news
,
2021 kpop news updates
,
2021 news kpop
,
best kpop news site
,
daily kpop news
,
Ebs_TXT
,
Korean celeb news
,
KPOP
,
Kpop artist
,
kpop celebrity news
,
kpop daily news
,
Kpop idols
,
Kpop latest news
,
Kpop news
,
kpop news update
,
Kpop recent news
,
Kpop trending
,
KPop trending news
,
Kpop TXT
,
KPOP2021
,
KPOPIDA
,
KPOPNEWS
,
Kpopnews 2021
,
Kpopnews2021
,
latest kpop news
,
recent kpop news
,
soobin txt
,
Trending Kpop news
,
trending news
,
TXT
,
txt age
,
txt album
,
txt hueningkai
,
TXT KPOP
,
TXT kpop news
,
TXT kpop updates
,
txt members
,
TXT News
,
txt soobin
,
txt stock
,
txt taehyun
,
txt the chaos chapter freeze
,
txt yeonjun
,
TXT_FREEZE