The Kpop group Tomorrow x Together (TXT) appeared on a prominent Japanese music program and gave fans a special Christmas present. Tomorrow x Together had a Christmas special appearance on TBS' CDTV LIVE! LIVE!,' which aired on December 20 and sang 'Ito' from their first Japanese EP 'Chaotic Wonderland.'
The members conveyed feelings of affectionate love with their sweet voices and deep eyes. They performed against the backdrop of a snowy alleyway.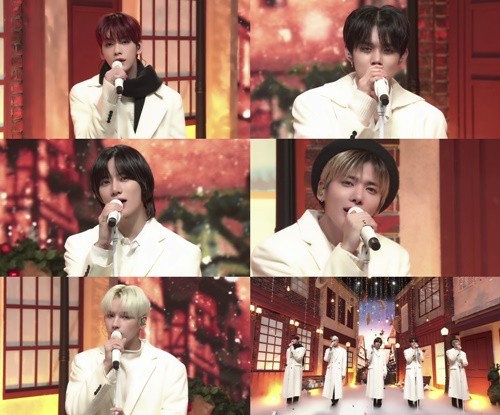 'Ito' is a ballad genre song written and composed by Japanese vocal group GReeeeN. It deals with the theme of '絆,' which means relationship. Like the Chinese character '絆,' it contains the message, 'Meet a person with half (半) thread and become one thread (糸), and two threads combine to become a stronger thread called love (愛).'
Tomorrow x Together first participated in the Japanese drama OST with 'Ito,' which is also the opening theme song of the popular drama 'Spiral Labyrinth – DNA Forensic Investigation' in TV Tokyo.
Meanwhile, Kpop group Tomorrow X Together (TXT) dominated global album and music charts such as Oricon and Billboard with 'Chaotic Wonderland.'
In fact, the 'Chaotic Wonderland' topped the Oricon weekly album chart and weekly combined album rankings. Also, they recorded 300,000 shipments as of November, receiving gold disc 'Platinum' certification from the Recording Industry Association of Japan. In addition, the album ranked 177th on 'Billboard 200' as of December 18, released by the US music media Billboard.
Read More About: WJSN Chocome Drops 'Super Yuppers!' Schedule Poster
2021 kpop news
,
2021 kpop news updates
,
2021 news kpop
,
best kpop news site
,
breaking news kpop
,
daily kpop news
,
Korean celeb news
,
KPOP
,
Kpop artist
,
Kpop artists
,
kpop celebrity news
,
Kpop chart and news
,
kpop daily news
,
Kpop idols
,
Kpop latest news
,
Kpop news
,
Kpop news articles
,
Kpop news sites
,
kpop news update
,
Kpop recent news
,
Kpop trend
,
Kpop trending
,
KPop trending news
,
Kpop trending now
,
kpop trending update
,
Kpop TXT
,
KPOP2021
,
KPOPIDA
,
KPOPNEWS
,
soobin txt
,
Trending
,
trending 2021
,
trending kpop
,
Trending Kpop news
,
trending kpop update
,
trending news
,
trending update kpop
,
TXT
,
txt age
,
txt album
,
txt hueningkai
,
TXT KPOP
,
TXT kpop news
,
TXT kpop updates
,
txt members
,
TXT News
,
txt soobin
,
txt taehyun
,
txt the chaos chapter freeze
,
txt yeonjun
,
TXT_FREEZE