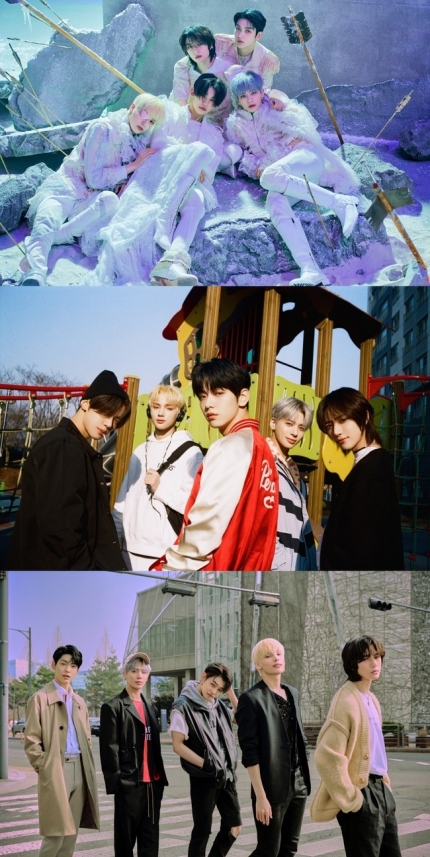 The boy group Tomorrow x Together (TXT) has successfully completed their 2nd full-length album activities with rave reviews from leading overseas media outlets.
Several foreign media outlets, including TIME, focused on the second full-length album, 'The Chaos Chapter: FREEZE,' and its achievements. The group released the album on May 31st.
The American weekly magazine TIME said, "Of the rock genre songs released by K-pop artists in recent years, Tomorrow x Together's '0X1=LOVESONG (I Know I Love You) feat. Seori (Zero By One Love Song)' stands out." TIME introduced the title song as one of the best K-pop songs of the year.
Forbes reported that Tomorrow x Together ranked 5th on 'Billboard 200,' the main album chart of US Billboard. Also, they topped the 'Top Album Sales' chart, saying, "They have achieved bestsellers in North America more than once. They are one of the few groups."
Consequence of Sound, a leading American music media, said, "Tomorrow x Together has built a reputation for 'no-skips' in a short period of two years. Emotion is not common among upcoming artists. They were not afraid to take risks, regardless of genre or tone."
BuzzFeed said, "'The Chaos Chapter: FREEZE,' like the previous albums, is the members' personal experience. But, it evokes sympathy for fans worldwide who are growing through a period of chaos together. So, the range of stories Tomorrow x Together tells through music is getting wider and wider. The expansion of their music world is in line with the artistic growth of all the members who participated in this album."
Rolling Stone said, "Tomorrow x Together is called '4th generation K-pop group leader' or 'It Boy' and has grown rapidly. The message in their music is very clear. It connects with the listeners by telling a personal story about the growing pains of a teenager."
Rolling Stone India commented on 'Why Tomorrow x Together is the voice of a new era,' saying, "They have become a beacon of light to young people who have been growing over the past two years. At the same time, they are providing adults with their teenage years. They showed that even in the chaos of life, they built a huge fandom, making us feel that we're not alone. Also, they achieved outstanding results on the charts. Their message is completely unique, regardless of the times."
Tomorrow x Together gathers enthusiastic support from teenagers worldwide with their trendy music, performances, and lyrics. Also, they showed a high consensus until the end of their 'The Chaos Chapter: FREEZE' activities.
With this album, it entered 5th place on the Billboard 200, the main album chart of the US Billboard. They maintained their position in the chart for three weeks in a row. Now, they are establishing themselves as a '4th generation idol representative' that captured both fandom and popularity.
Read More About: John Park To Release 'Outbox' On July 12th!
2021 kpop
,
2021 kpop news
,
2021 kpop news updates
,
2021 kpop updates
,
2021 news kpop
,
2021 updates on kpop
,
KPOP
,
Kpop 2021
,
Kpop artist
,
Kpop artists
,
Kpop idols
,
Kpop news
,
Kpop trend
,
Kpop trending
,
KPop trending news
,
Kpop trending now
,
KPOP2021
,
Kpopall
,
KPOPIDA
,
KPOPNEWS
,
Kpopnews 2021
,
Kpopnews2021
,
soobin txt
,
the chaos chapter: freeze
,
Tomorrow_By_Together
,
trending 2021
,
trending kpop
,
Trending Kpop news
,
trending kpop update
,
trending update kpop
,
TXT
,
txt album
,
txt hueningkai
,
TXT KPOP
,
txt members
,
TXT News
,
txt soobin
,
txt taehyun
,
txt yeonjun