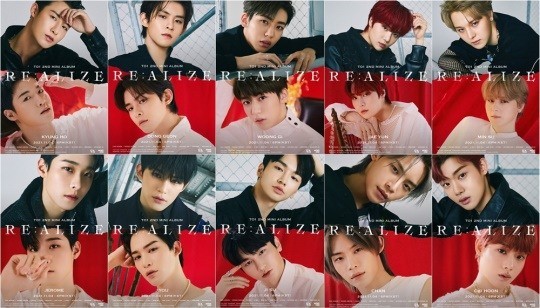 Kpop group TO1 (Jaeyun, Chihoon, Donggeon, Chan, Jisu, Minsu, J.You, Kyungho, Jerome, and Woonggi) overwhelms the eyes of the fans with their different charm.
TO1 released an individual poster of the 'MIX' version of their second mini-album 'RE:ALIZE' on their official social media on October 30 and 31.
In the released poster, they showed conflicting charms, revealing stark contrast with black and white costumes. They released rough and intense energy through black and completed a pure white mood through white. Mainly, TO1 showed a richer 10-member, 10-style personality with delicate eyes and emotional expressions suitable for the concept.
TO1 released all individual posters of the 'MIX' version. They prove their unlimited concept performance and amplify global fans' expectations for the upcoming album, 'RE:ALIZE.'
'RE:ALIZE' is an album that contains TO1's evolved identity. The members express it differently by comparing it to 'good and evil' as growing up fighting against another person inside. So, after taking a leap towards a rough world, they will make a solid impression through a stronger growth message.
TO1 continues to be enthusiastic about their comeback. They released group and individual posters of the 'MIX' version, following the 'REAL X' and the 'LIE X' versions. So, attention is focusing on the comeback of TO1, which returned with a more mature and colorful charm than their previous album.
Meanwhile, Kpop group TO1 will release their second mini-album 'RE:ALIZE' on various online music sites at 6 pm on November 4.
Read More About: BLACKPINK Jisoo, The Beauty That Catches The Attention Of Fans
2021 kpop news
,
2021 kpop news updates
,
2021 kpop updates
,
2021 news kpop
,
best kpop news site
,
Boy group TO1
,
daily kpop news
,
Korean celeb news
,
KPOP
,
Kpop 2021
,
Kpop artist
,
Kpop artists
,
kpop celebrity news
,
kpop daily news
,
Kpop idols
,
Kpop latest news
,
Kpop news
,
kpop news update
,
Kpop recent news
,
kpop to1
,
Kpop trend
,
Kpop trending
,
KPop trending news
,
Kpop trending now
,
kpop trending update
,
KPOP2021
,
Kpopall
,
KPOPIDA
,
KPOPNEWS
,
Kpopnews 2021
,
Kpopnews2021
,
latest kpop news
,
recent kpop news
,
to1
,
TO1 Kpop
,
TO1 NEWS KPOP
,
TO1_Son of Beast
,
Trending
,
trending 2021
,
trending kpop
,
Trending Kpop news
,
trending kpop update
,
trending news
,
trending update kpop