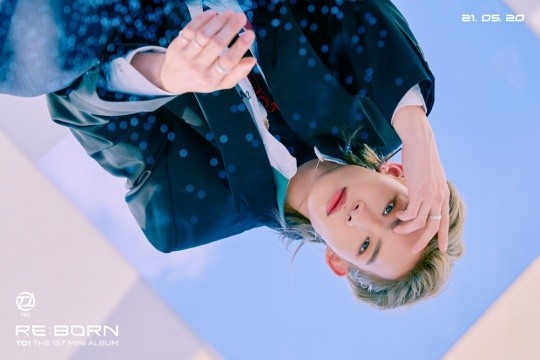 Group TO1 has released all B version individual concept photos.
TO1 (Chihoon, Donggeon, Chan, Jisu, Minsu, JAE YUN, J.YOU, Kyungho, Jerome, Woonggi) released six more B versions of their first mini-album 'RE: BORN' on their official social media at midnight on May 16th.
Chan, Kyungho, Jisu, JAE YUN, Minsu, and J. YOU, whose photos were released sequentially on the day, showed various charms ranging from fresh boyishness to intense masculinity in a refreshing mood.
First, Chan looked down at the low-angle camera with a relaxed gaze and overwhelmed the eyes of the fans. On top of that, he showed his presence as he sensibly digested a Wolf cut hair, highlighted with stylish accessories. Kyungho sat obliquely in his chair, looking down at the camera, giving off his deep charisma. His gray-tone overfit jacket and jogger pants, paired with a cap, create a hip look.
Then, Jisu showed his dandy styling with a classic striped shirt and jacket. He added a red tie and bold accessories to create a stylish look. While, J. YOU exudes deep masculinity, which is eye-catching because of his intense red hair and eyebrow scratches.
Also, Minsu showed his perfect features with a pomade hairstyle. On top of that, he doubled his sporty yet neat charm by mixing hoodies and suit jackets. Lastly, JAE YOON leaned his face on his knee. His eyes express a drowsy charisma. Particularly, he showed his chic charm by pulling off brilliant platinum hair in a unique way.
TO1 has released all B Version concept photos of their first mini-album 'RE: BORN.' TO1, which previously showed sporty yet edgy charm through the R version, adds fresh charisma through the B version concept photo. They are raising expectations for the release of their first mini-album 'RE: BORN.'
TO1's first mini-album 'RE: BORN' is an album with the members' unique musical identity and a message for young people taking a leap forward toward a new tomorrow. The title track 'Son of Beast' is a pop dance genre song with an R&B-colored base and a groovy and definite theme. It contains TO1's constant willingness to move toward the world.
TO1's will be releasing its first mini-album 'RE: BORN' on online music sites before 6 pm on May 20th.
Read More About: AB6IX To Release New Song 'GEMINI' By Universe Music On May 24
2021 kpop news
,
2021 kpop news updates
,
2021 kpop updates
,
KPOP
,
Kpop 2021
,
Kpop artist
,
Kpop artists
,
Kpop idols
,
Kpop news
,
kpop to1
,
Kpop trend
,
Kpop trending
,
KPop trending news
,
Kpop trending now
,
kpop trending update
,
KPOP2021
,
Kpopall
,
KPOPIDA
,
KPOPNEWS
,
to1
,
TO1 Kpop
,
TO1_Son of Beast
,
Trending
,
trending 2021
,
trending kpop
,
Trending Kpop news
,
trending kpop update
,
trending news
,
trending update kpop