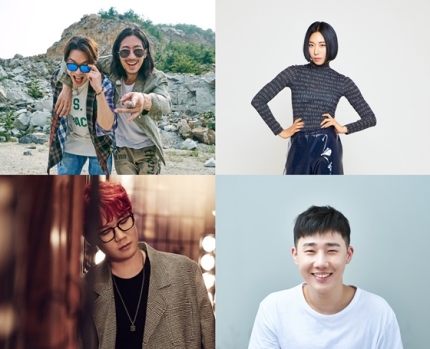 Tiger JK, Bizzy, Lia Kim, NELL's Jongwan Kim, and Kim Sunggyu will join as 'Wild Idol' mentors.
MBC's new survival program, 'Extreme Debut: Wild Idol' (Director Haengho Choi, Mingeun Choi, Younglong Han), revealed the lineup of mentors on August 4th. It includes Tiger JK, Bizzy, Lia Kim, Nell's Jongwan Kim, and Sunggyu Kim.
Tiger JK, who represents Korea's hip-hop scene, and Bizzy, recognized for his elegant rapping, are in charge of rap training for 'Wild Idol' applicants. The two boast strong personalities. So, they plan to perform great activities by setting rap styles and directions, matching the styles of the participants.
Tiger JK gave full support as he produced a song for 'Wild Idol.'
World-renowned choreographer Lia Kim creates her own unique choreography for 'Wild Idol.'
Lia Kim has been creating choreography for famous K-pop artists. It includes TWICE's 'TT,' Sunmi's '24 Hours,' 'Full Moon,' and 'Gashina,' and MAMAMOO's 'HIP,' and 'Dingga Dinga.'
So, it raises curiosity about how Lia Kim's boy group's choreography will show through 'Wild Idol.'
Jongwan Kim, the vocalist of the Nell band, and INFINITE Sunggyu Kim, who led the K-pop craze, will also join. The two, who possess a unique voice and excellent singing ability, plan to improve the vocal skills of the participants.
Particularly, Sunggyu Kim is a vocal trainer following the observer, providing strong support. Expectations are high for the chemistry that Jongwan Kim and Sunggyu Kim will show through 'Wild Idol.'
Jongwan Kim started as a long-time fan and singer. Then, Jongwan and Sunggyu became senior and junior who shows musical synergy through working on solo albums.
Interest in the 'Wild idol' will surely grow even hotter. As observers, there are powerful trainers by field. It includes Jongkook Kim, Taehyun Cha, Seonbin Lee, Hyuni Lee, Sunggyu Kim, and Brave Girls' Yujeong.
'Wild Idol' is a 'real survival' program, different from existing survival audition programs. Mentors will evaluate the participants not only for their skills. But, participants will need to show their physical strength and hidden potential in the wild. So, the fierce battle for rankings that viewers haven't seen before will surely provide a different kind of fun.
It will first air in September.
Read More About: T1419, To Comeback With A New Album On August 23rd
2021 kpop news
,
daily kpop news
,
Extreme Debut: Wild Idol
,
Jongwan Kim
,
KPOP
,
Kpop artist
,
Kpop artists
,
Kpop Bizzy
,
Kpop daily
,
kpop daily news
,
Kpop idols
,
Kpop latest news
,
Kpop Lia Kim
,
Kpop news
,
kpop Tiger JK
,
Kpop trend
,
Kpop trending
,
KPop trending news
,
Kpop trending now
,
kpop trending update
,
KPOP2021
,
Kpopall
,
KPOPIDA
,
KPOPNEWS
,
latest kpop news
,
latest kpop updates
,
MBC
,
sunggyu kim
,
Tiger JK
,
Trending
,
trending 2021
,
trending kpop
,
Trending Kpop news
,
trending kpop update
,
trending news
,
trending update kpop
,
wild idol