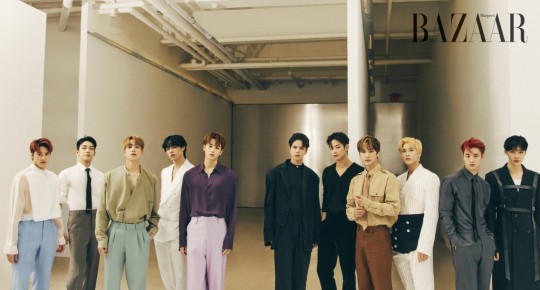 THE BOYZ (Haknyeon, Younghoon, Juyeon, Hyunjae, Sangyeon, Sunwoo, Q, Kevin, Jacob, Eric, New) showed the brilliant narrative of 11 boys through a pictorial.
The 11 members of THE BOYZ finished the long journey of Mnet's 'Kingdom: Legendary War' emotionally. But, now, they showed a shining image separately in a pictorial.
The pictorial was carried out with a total of two concepts. The pictorial shows the free appearance of Jacob, Kevin, New, Q, Sunwoo, and Eric in the black-and-white photo. Also, the pictorial shows the moment when Sangyeon, Younghoon, Hyunjae, Juyeon, and Haknyeon, who face the camera, emit deep eyes and gestures.
With the expressive power and concentration of THE BOYZ, they quickly completed the pictorial. They conducted the pictorial without any special effects. THE BOYZ, strengthened with a sensuous rhythm, are shining now even more.
Particularly, THE BOYZ's group pictorial in a suit can give a glimpse of their charm that stands at the boundary between a boy and a man.
Read More About: IU, Youthful, Lush, And Refreshing Summer Pictorial With J.ESTINA
2021 kpop
,
2021 kpop news
,
2021 kpop news updates
,
2021 kpop updates
,
2021 news kpop
,
2021 updates on kpop
,
KPOP
,
Kpop 2021
,
Kpop artist
,
Kpop artists
,
Kpop idols
,
Kpop news
,
KPOP THE BOYZ
,
Kpop trend
,
Kpop trending
,
KPop trending news
,
Kpop trending now
,
KPOP2021
,
Kpopall
,
KPOPIDA
,
KPOPNEWS
,
Kpopnews 2021
,
Kpopnews2021
,
the boyz
,
THE BOYZ KPOP
,
THE BOYZ KPOP UPDATE
,
THE BOYZ NEWS
,
The Boyz_Juyeon
,
The Boyz_New
,
the boyz_sunwoo
,
trending 2021