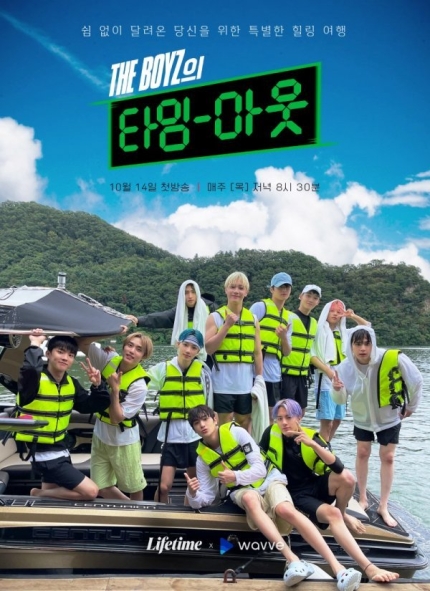 Kpop group The Boyz will launch their first travel reality program, to premiere on October 14. The Boyz will launch 'THE BOYZ Timeout,' a healing friendship travel reality program.
Kpop group The Boyz will unveil the healing reality show, 'THE BOYZ Timeout,' through the Korea Lifetime x wavve channel on October 14. This reality broadcast contains a dream-like moment of the 11 members who have been running without a break since their debut. They go on a trip as a whole group, and fans will have a special opportunity to meet the members more sincerely than ever. So, it is raising expectations even more.
'THE BOYZ Timeout' depicts a pleasant deviation of The Boyz, a famous artist who is captivating the world, enjoying sweet relaxation outside the stage. After their fourth year since debut and performances that overwhelm the fans, using their singing ability, the members will spend some leisure time through this travel reality program.
The 11 members plan to spend time together while filling out their unique bucket lists for healing, such as camping and surfing. The scene of the filming site, surrounded by nature, such as a wide river and lush trees, will surely act as a point of observation. Also, fabs can see the closeness of each member as they confess their honest feelings to each other.
Meanwhile, 'THE BOYZ Time Out' will air on the Korea Lifetime Channel at 8:30 pm, and the Wavve Channel at 11 am every Thursday, starting with the first episode on October 14.
Read More About: G-Dragon Shared His Current Status Through A Social Media Post
2021 kpop news
,
2021 kpop updates
,
KPOP
,
Kpop 2021
,
Kpop artist
,
Kpop artists
,
kpop group THE BOYZ
,
Kpop idols
,
Kpop news
,
KPOP THE BOYZ
,
KPOP the boyz news
,
Kpop trend
,
Kpop trending
,
KPop trending news
,
Kpop trending now
,
KPOP2021
,
KPOPIDA
,
KPOPNEWS
,
The Album
,
the best kpop girl group
,
the best kpop girl group of 2021
,
the best kpop group of 2021
,
the boyz
,
THE BOYZ KPOP
,
THE BOYZ KPOP UPDATE
,
THE BOYZ members
,
THE BOYZ NEWS
,
THE BOYZ Sunwoo
,
THE BOYZ THRILL-ING
,
THE BOYZ_DRINK IT
,
The Boyz_Juyeon
,
The Boyz_New
,
the boyz_sunwoo
,
the boyz_younghoon
,
the top kpop group
,
trending kpop
,
Trending Kpop news
,
trending kpop update
,
trending update kpop