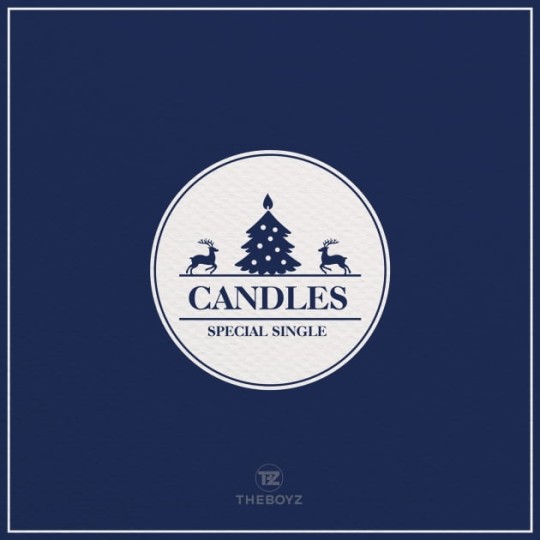 Kpop group The boyz will release the special single 'Candles' on December 6.
The Boyz released the cover image of 'Candles' through their official social media at midnight on December 2.
The special single 'Candles' is a fan song containing the members' messages to The B (fandom). It is in line with the celebration of the 4th anniversary of The Boyz's debut. In fact, members New, Q, Sunwoo, and Eric directly participated in writing the lyrics. Then, MonoTree producer Joohyung Lee participated in enhancing the song's completeness.
This fan song, which they will release as part of The Boyz's 4th anniversary promotion, will be unveiled for the first time through The Boyz's FAN-CON 'THE B-ZONE' on December 3 and 5.
The released 'Candles' cover image catches the eyes of the fans with a simple blue tone background and a Christmas tree image reminiscent of a candle.
Starting with the fan song 'White' to mark the second anniversary of its debut in 2019, THE BOYZ, which is releasing special winter singles for fans such as 'Christmassy!," is once again presenting a new winter song to global fans, raising excitement and curiosity.
Meanwhile, Kpop group The Boyz will take the 2021 Asia Artist Awards stage on December 2 and hold a fan concert, 'The B-ZONE' at SK Handball Stadium, from December 3 to 5. They will carry out non-stop year-end activities.
Read More About: KINGDOM Releases 'Fallen Star' Live Version Video As Gift To Fans
best Kpop girl group
,
best kpop news site
,
best kpopstar
,
breaking news kpop
,
daily kpop news
,
Fandom
,
JUYEON
,
Korean celeb news
,
Korean singer
,
Korean singer songwriter
,
KPOP
,
Kpop album
,
Kpop beauty routine
,
Kpop boy group
,
kpop celebrity news
,
Kpop chart and news
,
Kpop colllaboration
,
KPOP comeback
,
Kpop current news
,
kpop daily news
,
Kpop fashion
,
Kpop girls group
,
kpop group THE BOYZ
,
Kpop idols
,
Kpop issues
,
Kpop latest news
,
Kpop music chart
,
Kpop news
,
Kpop news articles
,
Kpop news sites
,
kpop news update
,
Kpop recent news
,
Kpop skin care routine
,
Kpop skincare routine
,
KPOP THE BOYZ
,
KPop trending news
,
KPOPNEWS
,
NEW
,
South Korean singer songwriter
,
the best kpop girl group
,
the best kpop girl group of 2021
,
the best kpop group of 2021
,
the boyz
,
THE BOYZ members
,
THE BOYZ NEWS
,
the top kpop group
,
THRILL RIDE
,
THRILL-ING
,
top kpop boy group
,
top kpop girl group