The 'World Support Season 2 Concert,' organized by the Korean Cheerleading squad, Red Angels, will do a global donation activity. This will take place in Paju City on May 29th. Red Angels announced that The Boyz and Oh My Girl are the first lineup performers for season 2. The total lineup will consist of 4 K-pop groups, including The Boyz and Oh My Girl, 1 C-pop group in China, and 1 J-pop group in Japan.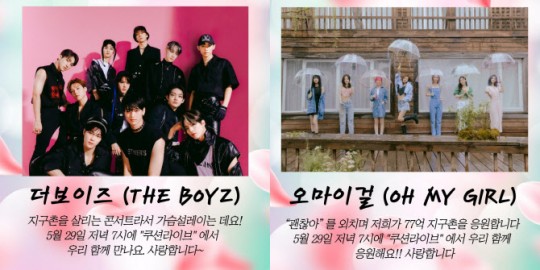 This concert is for the support to fight against Coronavirus. So, about 3000 audiences can stream live through Zoom, and they will select 70 on-site audiences through a lottery.
The concert hosts are Salvation Army and the Red Angels, who have branches in different countries. Red Angels wants to deliver hope to 7.7 billion global citizens suffering from Coronavirus through K-pop.
In commemoration of 'World Support Season 2,' Red Angels also supports medical staff and provides children's relief. It is through the help of the Salvation Army. Besides, they will conduct a welfare square cheer relay and donate goods to Paju City. In fact, Paju is South Korea's peace capital, which symbolizes global peace and hope.
In addition, they plan to issue a new 'COUTION,' which is a combination of coupons and donations. It will maximize public donation activities. Also, they want to deliver the global message, "You are saving a life just by watching a K-pop concert."
In fact, the Korean cheering squad Red Angels has been supporting the country's journey for the past 15 years. They are cheering for Korean teams in Olympics, Paralympic Games, Asian Games, etc.
Previously, Red Angels arranged the 'World Support Season 1' both online and offline. They are taking the lead in raising nationality and promoting national prestige. This event aims to inspire young people to have patriotism and raise the global mindset.
Read More About:
Oh My Girl Arin Showed Off Her Cute Charisma
ITZY Do The Random Play Dance On MBC 'Weekly Idol'
2021 kpop news
,
2021 kpop updates
,
KPOP
,
Kpop 2021
,
Kpop artist
,
Kpop artists
,
Kpop news
,
Kpop trending
,
KPop trending news
,
Kpop trending now
,
KPOP2021
,
Kpopall
,
KPOPIDA
,
KPOPNEWS
,
oh my girl
,
paju city
,
red angels
,
the boyz
,
Trending
,
trending 2021
,
trending kpop
,
Trending Kpop news
,
trending kpop update
,
trending news
,
trending update kpop
,
world support season 2