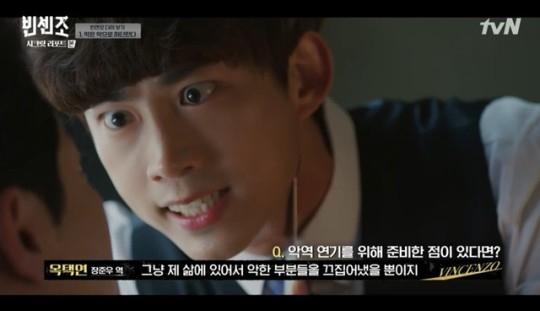 Taecyeon Ok of 2PM, said that he was playing a villain by pulling out the evil part. He shared his impression on the 'Vincenzo Special.'
In the secret report of tvN's Saturday and Sunday drama 'Vincenzo' (played by Park Jae-beom/director Kim Hee-won) broadcast on April 17, the actors directly picked the famous scene.
First, Joongki Song picked the scene where Myunghee Choi (Kim Yeo-jin) murdered the lawyer Yoochan Hong (Jaemyeong Yoo). Yeojin Kim said, "The scene where Joonwoo Jang (Taecyeon Ok) hit the western marketer with a hockey stick was the most impressive."
Taecyeon Ok, who played the role of villain Joonwoo Jang, said, "I only brought out the evil parts of my life, but it doesn't seem like a different personality came out in the process."
Next, Yeobin Jeon said, "Vincenzo (played by Joongki Song) is holding an in-person party. I like the scene where Yoochan's father watches over. At the time of filming, I didn't know what Yoochan was looking at. I think I know what kind of mind I am messing with."
Subsequently, many actors said that the scene of the 4th pharmaceutical factory bombing was "exciting."
So, it was a famous scene indeed.
Read More About: Vincenzo Released Undisclosed Cuts
2PM
,
2pm_Ok Taecyeon
,
jeon yebin
,
KPOP
,
Kpop 2021
,
Kpop artist
,
Kpop artists
,
Kpop idols
,
Kpop news
,
Kpop trend
,
Kpop trending
,
KPop trending news
,
Kpop trending now
,
kpop trending update
,
KPOP2021
,
Kpopall
,
KPOPIDA
,
KPOPNEWS
,
Kpopstars
,
ok taecyeon
,
song joongki
,
Trending
,
trending 2021
,
trending kpop
,
Trending Kpop news
,
trending kpop update
,
trending news
,
trending update kpop
,
Vincenzo
,
vincenzo special