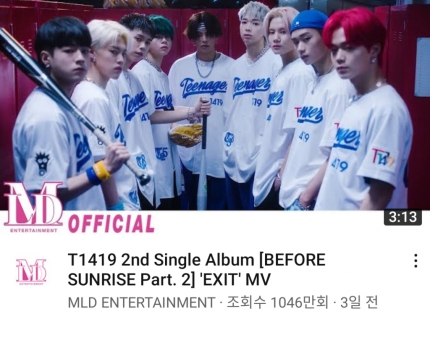 T1419, a rookie group, consists of Noa, Sian, Kevin, Gunwoo, Leo, On, Zero, Kairi, and Kio. Their song 'EXIT' exceeded 10 million views on their official YouTube channel.
The title song, 'EXIT,' from their second album, 'BEFORE SUNRISE Part. 2,' reached 10.46 million views on YouTube at 9:30 am on the 3rd.
'EXIT' is a song highlighting the pain that teenagers suffer under the theme of school violence. Global fans loved T1419 for their sophisticated melodies and stronger performances.
T1419 previously said, "Through this album, I hope you can find out what kind of songs we are singing and what kind of story we are talking about."
Read More About: IMLAY, New Album 'Utopia' Supported By Yeseo Kang and Chenle
2021 kpop news
,
2021 kpop news updates
,
2021 kpop updates
,
Exit
,
exit by T1419
,
Kpop 2021
,
Kpop artist
,
Kpop news
,
Kpop trend
,
Kpop trending
,
KPop trending news
,
Kpop trending now
,
kpop trending update
,
KPOP2021
,
KPOPIDA
,
KPOPNEWS
,
T1419
,
t1419 Exit
,
T1419 new Album
,
t1419_exit
,
Trending
,
trending 2021
,
trending kpop
,
Trending Kpop news
,
trending kpop update
,
trending news
,
trending update kpop
,
trending updte