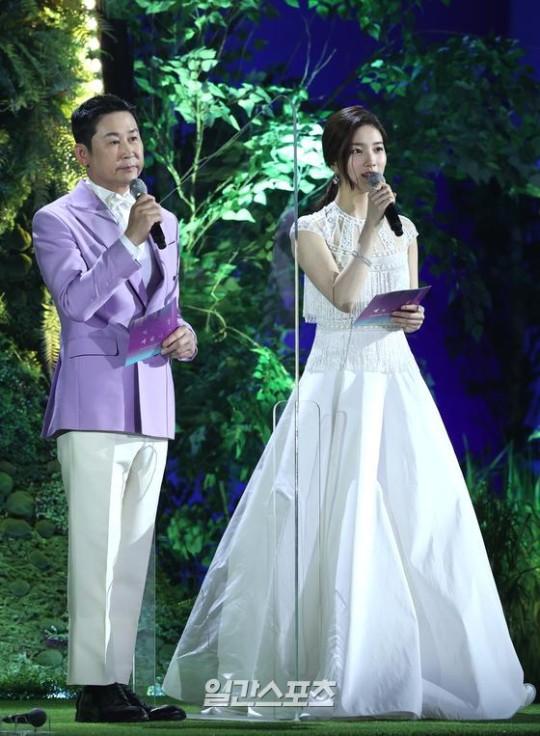 Broadcaster Dongyeop Shin and actress Suzy Bae showed off their ability to communicate just by looking at each other. There was no doubt that they have the 'chemistry' when it comes to hosting.
Dongyeop Shin and Suzy Bae reunited as hosts at the 57th Baeksang Arts Awards on the 13th of May. The two, who are working together for the fifth time, opened the door of spring with a relaxed smile from the opening.
The two went up on stage and expressed their regret as the Baeksang Arts Awards was still unattended by the audience for two consecutive years due to Covid-19. They applauded those who led pop culture and art on behalf of the audience.
Based on his years of experience, Dongyeop Shin stably led the live show. His witty talk brought out her partner Suzy Bae's smile while also relieving tension in the artists' seat. Suzy Bae dominated the entire event with her "white goddess" look. The narration introducing the celebratory stage was a point that confirmed Suzy's deeper sensibility.
In the three-hour live broadcast, Dongyeop Shin and Suzy Bae performed smoothly and flawlessly. They shared the joy and regret of winning the award with the 130 artists, confirming the title of "Trusted Hosts."
Bogum Park, who had been with the Baeksang Arts Awards for three consecutive years as a host, could not be with them because he is serving in the military. Dongyeop Shin said, "It's a shame that there is no Bogum this year." Then, Suzy Bae said, "We will wait," promising to meet next year.
Read More About:
Yuri Kwon Entered The Palace With The Help Of Ilwoo Jung x Dongha Ko On 'Bossam: Steal The Fate'\
iKON Bobby, The Boyz Sunwoo, & SF9 Hwiyoung On MNET's 'Kingdom
57th Baeksang Arts Awards
,
bae suzy
,
Dongyeop Shin'
,
KPOP
,
Kpop artist
,
Kpop artists
,
Kpop idols
,
Kpop news
,
Kpop trend
,
Kpop trending
,
KPop trending news
,
Kpop trending now
,
KPOP2021
,
Kpopall
,
KPOPIDA
,
KPOPNEWS
,
Kpopstars
,
Shin Dongyeop
,
suzy bae
,
Trending
,
trending 2021
,
trending kpop
,
Trending Kpop news
,
trending kpop update
,
trending news
,
trending update kpop