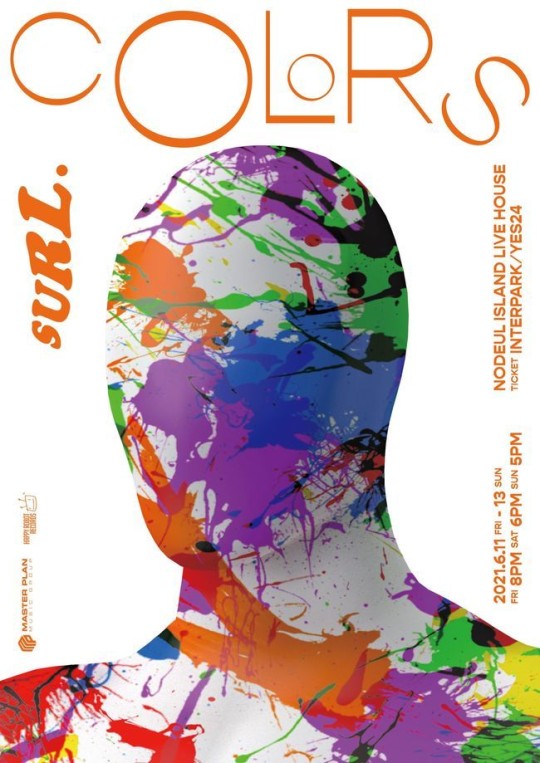 The band SURL will conduct a solo performance at Nodeul Island Live House from July 9 to 11.
The agency, Happy Robot Records, said, "The solo concert 'Colors' plans to present something new that fans have never seen anywhere in harmony with the colors of SURL's live performances and audiences."
'Colors' is a performance that SURL will conduct again after its solo performance 'Ah, ah, ah, ah What can I do?' at the same place in August last year. The government plans to do everything for the audience's safety by following thorough prevention rules first to prevent the spread of Covid-19. Also, it runs for three days to be with more fans.
Tickets for the solo concert 'Colors' will be available through Interpark and Yes24 from 8 pm on June 18th.
Then, on June 26th, SURL will also appear in 'Beautiful Mint Life 2021,' the first outdoor music festival in Korea after Covid-19.
Read More About: Musical 'Wicked' Promised A 'Full Refund' Due To Joohyun Ock's Condition
2021 kpop
,
2021 kpop news
,
2021 kpop news updates
,
2021 kpop updates
,
2021 news kpop
,
2021 updates on kpop
,
band SURL
,
KPOP
,
Kpop 2021
,
Kpop artist
,
Kpop artists
,
Kpop idols
,
Kpop news
,
kpop SURL
,
Kpop trend
,
Kpop trending
,
KPop trending news
,
Kpop trending now
,
kpop trending update
,
KPOP2021
,
Kpopall
,
KPOPIDA
,
KPOPNEWS
,
Kpopnews 2021
,
SURL band
,
surl concert
,
SURL Kpop
,
Trending
,
trending 2021
,
trending kpop
,
Trending Kpop news
,
trending kpop update
,
trending news
,
trending update kpop