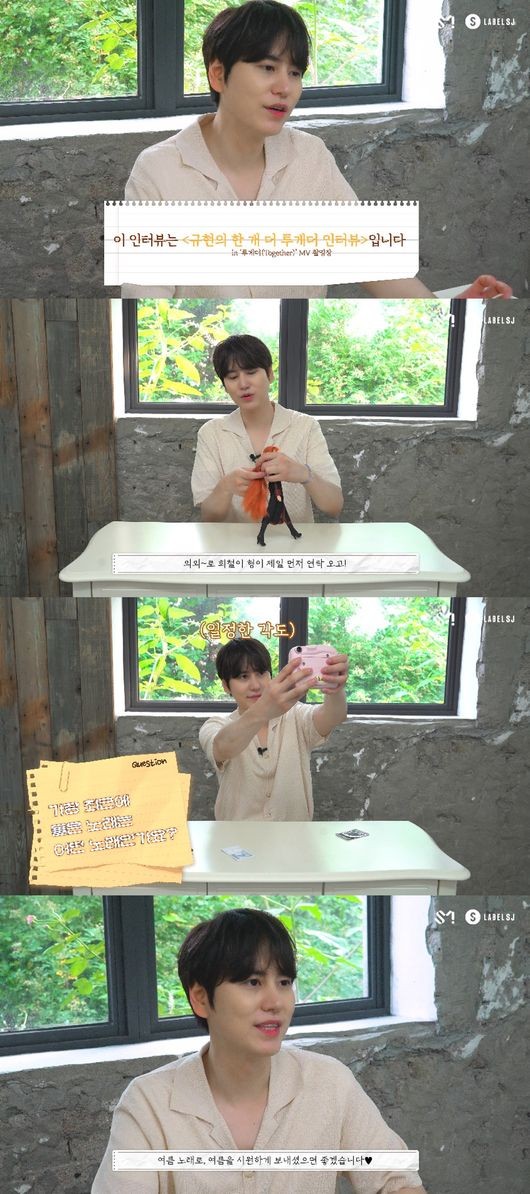 Super Junior member Kyuhyun shared his thoughts on the new song 'Together.'
Kyuhyun uploaded '1 More 'Together' Interview' filmed at the music video site for the new song 'Together' on Super Junior's YouTube channel at 6 pm on June 29th. The multitasking format of conducting interviews while performing various missions such as taking Polaroid photos added to the fun of viewing.
Kyuhyun diligently carries out his mission. When asked about 'the first member to contact each time a new song comes out,' Kyuhyun said, "Unexpectedly, Heechul is the first to contact me. Then, there are Yesung, Ryeowook, and Donghae. Eunhyuk and Siwon upload them on social media." He boasted their strong loyalty to each other.
Super Junior Kyuhyun also said, "My favorite and exciting song was 'Time with you. But, in my mind, it's been changed to 'Together.' I'm just listening to it over and over again these days. It has a bit of a retro feel, and you don't get tired of listening to it. If you listen to it, you will be very happy." He expressed his affection for the new song 'Together.'
Then, Kyuhyun concluded the video with a friendly greeting, saying, "I hope you all have a cool summer with 'Together.'"
The official soundtrack and music video of the new song 'Together,' which raised expectations with Kyuhyun's witty interview, will be available on various music sites at 6 pm on July 5th.
Read More About: TWICE Tzuyu 'Improved Vocal Skills' Feels Like A Diva
2021 kpop
,
2021 kpop news
,
2021 kpop news updates
,
2021 kpop updates
,
2021 news kpop
,
2021 updates on kpop
,
KPOP
,
Kpop 2021
,
Kpop artist
,
Kpop artists
,
Kpop idols
,
kpop Kyuhyun
,
Kpop news
,
kpop super junior
,
Kpop trend
,
Kpop trending
,
KPop trending news
,
Kpop trending now
,
KPOP2021
,
Kpopall
,
KPOPIDA
,
KPOPNEWS
,
Kpopnews 2021
,
Kpopnews2021
,
Super Junior
,
Super Junior Kyuhyun
,
super junior news
,
Super Junior Ryeowook
,
super junior updates
,
super Junior Yesung
,
super junior_eunhyuk
,
SUPERJUNIOR
,
trending 2021
,
trending kpop
,
Trending Kpop news
,
trending kpop update
,
trending update kpop