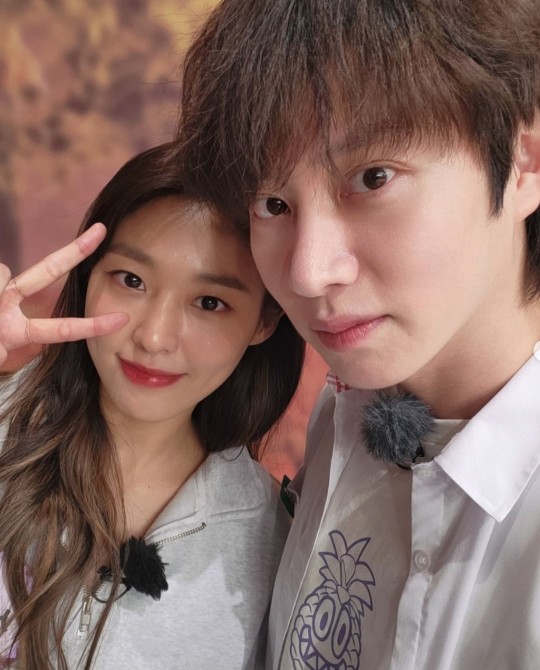 Kpop group Super Junior member Heechul and AOA member Seolhyun still showed off their special friendship.
On November 13, Super Junior member Heechul posted several photos taken with Seolhyun through his Instagram.
Along with this, Heechul Kim also added the phrase "my partner."
In the photo, the two are posing in a friendly way. Recently, the two filmed JTBC's 'Men On A Mission (Knowing Bros)' together.
Kpop group AOA member Seolhyun appeared on 'Men On A Mission,' which aired that day, revealing her extraordinary friendship with Heechul.

In Heechul's post, Seolhyun said, "Get off. Don't fall off and stick together. Don't stick, don't fall, and stick together. "Don't stick together and fall apart?"
Read More About: Dongwon Jeong Unveils 1st Full-length Album Highlight Medley
AOA
,
AOA BULLYING
,
AOA issues
,
AOA members
,
Aoa News
,
AOA updates
,
best Kpop girl group
,
best kpop news site
,
best kpopstar
,
breaking news kpop
,
daily kpop news
,
Fandom
,
Jimin Shin
,
Korean celeb news
,
Korean singer
,
Korean singer songwriter
,
KPOP
,
Kpop album
,
Kpop AOA
,
Kpop beauty routine
,
Kpop boy group
,
kpop celebrity news
,
Kpop chart and news
,
Kpop colllaboration
,
KPOP comeback
,
Kpop current news
,
kpop daily news
,
Kpop fashion
,
Kpop girls group
,
kpop group Super Junior
,
Kpop idols
,
Kpop issues
,
Kpop latest news
,
Kpop music chart
,
Kpop news
,
Kpop news articles
,
Kpop news sites
,
kpop news update
,
Kpop recent news
,
Kpop skin care routine
,
Kpop skincare routine
,
kpop super junior
,
KPop trending news
,
KPOPNEWS
,
mina Kwon
,
Seolhyun
,
South Korean singer songwriter
,
sungmin
,
Super Junior
,
super junior members
,
super junior news
,
the best kpop girl group
,
the best kpop girl group of 2021
,
the best kpop group of 2021
,
the top kpop group
,
top kpop boy group
,
top kpop girl group