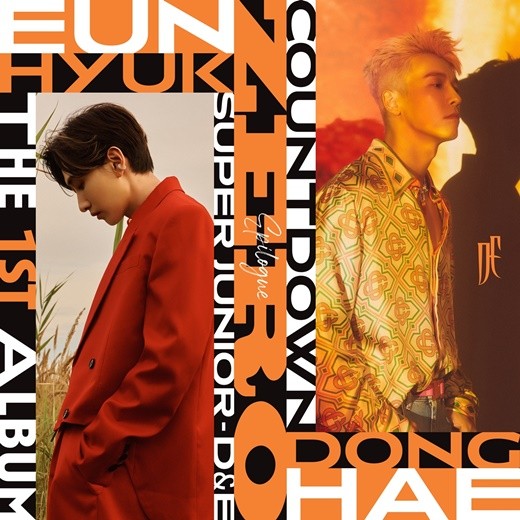 Super Junior -D&E meets global fans with an epilogue album. Super Junior -D&E will release 'COUNTDOWN – ZERO ver. (Epilogue)' on December 10 at 6 pm.
This new album is an epilogue album of the 1st full-length album, 'COUNTDOWN,' released on November 2. It will include the special track, 'Need U.'
Only the song 'Need U' will be out on music sites and will receive much attention.
'Need U' is a POP genre song with a sophisticated melody and heartfelt lyrics that catch your ears at once. Eunhyuk and Donghae directly participated in the lyrics and expressed their desire to convey to the fans.
Previously, SUPER JUNIOR-D&E released the full-length album 'COUNTDOWN' to celebrate their 10th debut anniversary. Through their full-length album 'COUNTDOWN,' they topped iTunes Top Album Chart in 22 regions worldwide, collecting hot global popularity. It includes iTunes in Indonesia, Malaysia, Mexico, Philippines, Saudi Arabia, Singapore, Taiwan, Thailand, Paraguay, Vietnam, Hong Kong, Argentina, Macao, the United Arab Emirates, Chile, Brazil, Israel, Colombia, Peru, Egypt, Ecuador, and Guatemala.
Super Junior -D&E also performed brilliantly in a total of 29 regions, including Japan, Russia, Bahrain, Spain, Jordan, Turkey, and the US, settling within the top 10 of the iTunes top album chart and appearing on the famous talk show 'Good Day New York' on the FOX5 channel in the US. The epilogue album will surely receive much loved from global fans. Also, this album will prove the unit's extraordinary power once again.
Meanwhile, Super Junior -D&E will release 'Countdown – Zero Ver. (Epilogue)' on December 10. Pre-orders for various online and offline albums will begin on December 1.
Read More About: FT Island Released 8th Mini-Album Plan Poster
best Kpop girl group
,
best kpop news site
,
best kpopstar
,
breaking news kpop
,
daily kpop news
,
Fandom
,
Korean celeb news
,
Korean singer
,
Korean singer songwriter
,
KPOP
,
Kpop album
,
Kpop beauty routine
,
Kpop boy group
,
kpop celebrity news
,
Kpop chart and news
,
Kpop colllaboration
,
KPOP comeback
,
Kpop current news
,
kpop daily news
,
Kpop fashion
,
Kpop girls group
,
kpop group Super Junior
,
Kpop idols
,
Kpop issues
,
Kpop latest news
,
Kpop music chart
,
Kpop news
,
Kpop news articles
,
Kpop news sites
,
kpop news update
,
Kpop recent news
,
Kpop skin care routine
,
Kpop skincare routine
,
kpop super junior
,
KPop trending news
,
KPOPNEWS
,
South Korean singer songwriter
,
sungmin
,
Super Junior
,
super junior members
,
super junior news
,
the best kpop girl group
,
the best kpop girl group of 2021
,
the best kpop group of 2021
,
the top kpop group
,
top kpop boy group
,
top kpop girl group