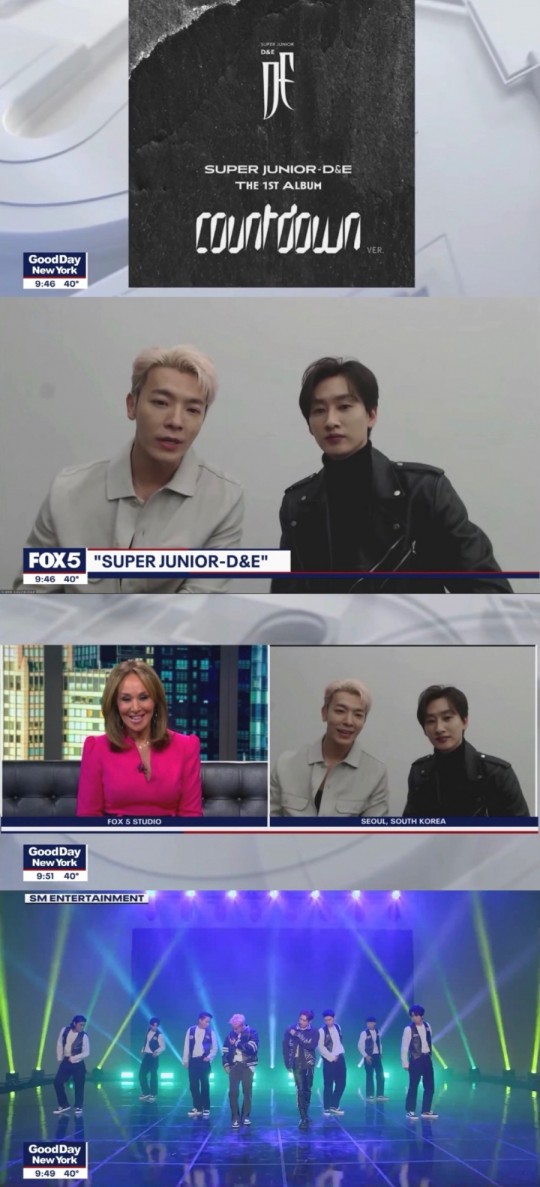 Super Junior-D&E left a deep impression on global fans by appearing on the famous talk show 'Good Day New York' on the US FOX5 channel.
On November 4 at 9 am (US time) in New York, USA, Super Junior-D&E conducted a video interview with 'Good Day New York' anchor Rosanna Scotto.
First, regarding the first full-length album, 'Countdown,' released to celebrate their 10th debut anniversary, the Eunhyuk and Donghae said, "We put all ten years of SUPER JUNIOR-D&E into the album. It is an album that we made hard to express our gratitude for the past ten years with our hearts, songs, and content."
Next, when asked to explain the meaning of the title song 'Zero,' they said, "Without you, there would be no me and Super Junior-D&E. Before our debut, when we were only dreaming, we also started at '0.' It means that we met all of you when we started with '0.'"
Next, the anchor, who saw the performance of Super Junior-D&E's new song 'Zero,' praised it with the exclamation "Fantastic! It's so good."
Lastly, when asked about their plans to visit New York, they said, "We remember the last time we went to the studio and talked with Super Junior members. Unfortunately, we couldn't go directly due to the pandemic situation, but when the situation gets better, we want to go to New York to show you guys a good performance and have a good time."
Meanwhile, SUPER JUNIOR-D&E has been receiving a lot of love, including the release of their full-length album 'Countdown' on November 2. It ranked first in the iTunes Top Album Chart in 22 regions around the world.
Read More About: Lizzy Did Not File An Appeal On Charges Related To Drunk Driving
best Kpop girl group
,
best kpop news site
,
best kpopstar
,
breaking news kpop
,
daily kpop news
,
Fandom
,
Korean celeb news
,
Korean singer
,
Korean singer songwriter
,
KPOP
,
Kpop album
,
Kpop beauty routine
,
Kpop boy group
,
kpop celebrity news
,
Kpop chart and news
,
Kpop colllaboration
,
KPOP comeback
,
Kpop current news
,
kpop daily news
,
Kpop fashion
,
Kpop girls group
,
kpop group Super Junior
,
Kpop idols
,
Kpop issues
,
Kpop latest news
,
Kpop music chart
,
Kpop news
,
Kpop news articles
,
Kpop news sites
,
kpop news update
,
Kpop recent news
,
Kpop skin care routine
,
Kpop skincare routine
,
kpop super junior
,
KPop trending news
,
KPOPNEWS
,
South Korean singer songwriter
,
sungmin
,
Super Junior
,
super junior members
,
super junior news
,
the best kpop girl group
,
the best kpop girl group of 2021
,
the best kpop group of 2021
,
the top kpop group
,
top kpop boy group
,
top kpop girl group