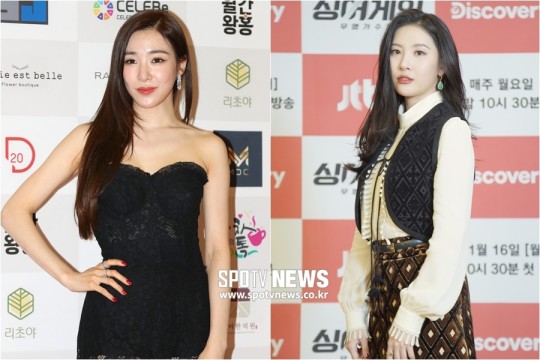 Sunmi and Tiffany will appear in 'Girls Planet 999.'
According to SPOTV News, on June 9th, Tiffany and Sunmi were in charge of Mnet's 'Girls Planet 999' as 'K-Pop Masters.'
'K-Pop Master' takes on the role of being a wannabe and mentor of 99 participants in 'Girls Planet.'
The two will help 99 participants in fierce competition to become a global girl group by sharing their idol know-how.
Tiffany and Sunmi are all representative girl groups of Girls' Generation, Wonder Girls, and K-Pop. What they have in common is that they received so much love from global fans. Like the 99 participants, they went through a war-like process with the dream of becoming an idol and stood tall in their current position.
Particularly, after successful group activities, they expanded their scopes, including solo singing and musical acting activities. The two are showing an irreplaceable presence in K-pop. In this regard, Tiffany and Sunmi will be the right people to lead the 99 participants in 'Girls Planet 999.'
In the case of Sunmi, expectations are high for her role as a mentor as she was once a mentor in JTBC's 'Sing Again,' which leads her to 'Girls Planet 999.'
'Girls Planet 999' is a program that depicts the journey of people from three different cultures to find the best combination through the process of harmonizing and growing together in a space called, 'Girls Planet.'
It is a space connected by K-pop, transcending language and boundaries. The first episode will premiere in August.
Read More About: APRIL Bullying Issue, DSP Media Is Filing An Appeal
2021 kpop news
,
2021 kpop updates
,
Girls generation Tiffany
,
KPOP
,
Kpop 2021
,
Kpop artist
,
Kpop artists
,
Kpop idols
,
Kpop news
,
Kpop trend
,
Kpop trending
,
KPop trending news
,
Kpop trending now
,
KPOP2021
,
Kpopall
,
KPOPIDA
,
KPOPNEWS
,
Singer Sunmi
,
Sunmi
,
sunmi kpop
,
sunmi wonder girls
,
sunmi wondergirls
,
tiffany
,
Tiffany Young
,
trending kpop
,
Trending Kpop news
,
trending kpop update
,
trending update kpop
,
wonder girls sunmi