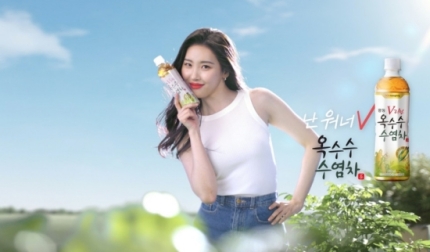 Sunmi (Lee Sun-mi) is the new face of corn beard tea.
Sunmi became the new model for Kwangdong Corn Beard Tea. On the 27th, Kwangdong Pharmaceutical released an advertisement video of Sunmi's Corn Beard Tea through its YouTube channel.
The video consists of the contents of promoting both internal health and external beauty at the same time. Activities became limited due to Covid-19. Then, Sunmi suddenly gets out of the confined space and life pattern with a corn beard tea.
Particularly, Sunmi created sympathy by recreating the appearance of the 20s and 30s. It unfolds only in a limited cube space where various lives are present. So, it attracted attention with its uniquely bright and healthy energy.
After releasing the advertisement video of Sunmi's Corn Beard Tea, the fans said:
"It's so pretty, I've already run it for the 52nd time. Now I'm going to buy corn beard tea."
"Stern rice cake ㅠㅠ"
There are many other comments with hot responses. An official of Kwangdong Pharmaceutical said, "We made it possible for those who are conventional to working from home. And also, for those who work from home and drink. This is to think of a more beautiful and healthy life. I put the thoughts I hoped for," he said.
Recently, through the new song 'TAIL,' Sunmi transformed into a Catwoman in the movie and showed an unprecedented performance. 'TAIL' is a song expressing delicate yet agile cats' characteristics concerning the love of an active, instinctive, and imposing woman. It garnered a topic with intuitive performance.
Meanwhile, she succeeded in a three-part series consisting of 'Gashina,' 'Protagonist,' and 'Siren.'
She has been continuing her activities as an artist with unique musicality. Sunmi captivated the public's hearts with her unusual stage performance, dominance, and differentiated concept. 'Seonmi Pop' firmly contains her own identity, to which fans loved Sunmi the most.
On the other hand, Sunmi released her new song 'TAIL' on the 23rd of last month and showed active activities.
Read More About: Sunmi Exposed Her Sexiness Wearing a Slip Dress
2021 kpop news
,
2021 kpop news updates
,
2021 kpop updates
,
2021 updates on kpop
,
corn beard tea
,
KPOP
,
Kpop artist
,
Kpop hottest singer
,
Kpop news
,
kpop sunmi
,
Kpop trend
,
Kpop trending
,
KPop trending news
,
Kpop trending now
,
kpop trending update
,
Kpop_Sunmi
,
KPOP2021
,
KPOPIDA
,
KPOPNEWS
,
Kwangdong pharmaceuticals
,
Sunmi
,
sunmi advertisement
,
sunmi corn beard tea
,
sunmi kpop
,
Trending
,
trending kpop nes
,
Trending Kpop news
,
trending news