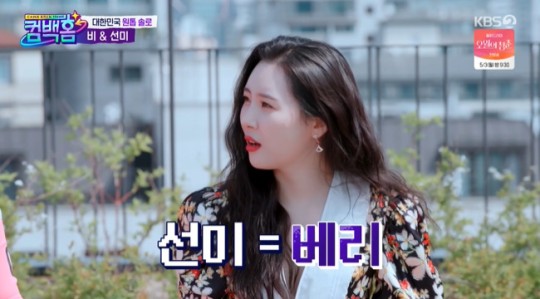 Sunmi revealed the story behind her trainee days.
On KBS 2TV 'Comeback Home,' which aired on April 24, Sunmi revealed the stage names of Wonder Girls members as a trainee.
On this day, Sunmi said about the opportunity to join JYP Entertainment. She said, "I saw an SM audition around 6th grade. It was the time to decide whether or not to become a trainee. However, the SM staff moved to JYP and said, 'Would you like to see a JYP audition? "I wanted to go into SM a little more. Boa is there."
The MCs asked if Jinyoung Park named the name Wonder Girls. Sunmi said, "We had a reality called Wonder Girls, and that became the team name. He gave me a stage name like my brother B. "I was Berry, and Sohee was IC. Yeeun was silver. We were really a bit serious," she recalled.
Yongjin Lee said, "If I don't like that, who will tell me? Do you want to submit without anyone knowing?" Sunmi said, "Fortunately, the people in the company opposed to it."
Rain and Sunmi remembered each other's first impressions at JYP. Rain said, "The practice room is underground. At around 10 pm, when this friend came up, she went down like a baton touch, but the first impression was that his white face and cheeks were always reddish."
Sunmi said, "At that time, we were our great seniors, but we were too shy to look at them. The practice room had an inner room and an outer room. Rain's brother occupied the inside room." Then Jaeseok Yoo said, "I used (the room) separately" and joked.
Rain explained, "The singers who debuted were in the inner room, and the trainees are in the outer room."
Read More About: Charismatic Sunmi
2021 kpop
,
2021 kpop girl idols
,
2021 kpop news
,
2021 kpop news updates
,
2021 kpop updates
,
2021 updates on kpop
,
KPOP
,
Kpop 2021
,
Kpop artist
,
Kpop artists
,
Kpop idols
,
Kpop news
,
Kpop trending
,
KPop trending news
,
KPOP2021
,
KPOPIDA
,
KPOPNEWS
,
Kpopnews 2021
,
Kpopnews2021
,
rain
,
Sunmi
,
sunmi kpop
,
sunmi on Comeback Home
,
sunmi wonder girls
,
sunmi wondergirls
,
trending 2021