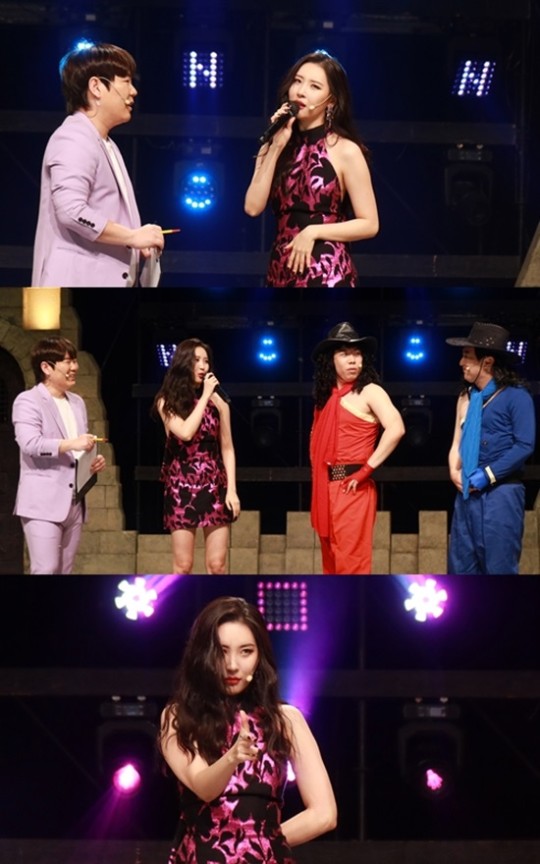 Sunmi appears in tvN's Comedy 'Big League' and showed off a sense of anti-war entertainment.
In tvN's 'Comedy Big League,' aired on the 7th of March, Sunmi starts shooting for 'Psychorus.' She collaborated with 'Emperor Emperor' and Se-Chan Yang.
Sunmi performed her hit song 'Gashina' and new song 'Tail.' She made her performance more exciting and gave the audience a dose of laughter with her unexpected sense of humour.
Emperor Emperor and Se-Chan Yang raised excitement by completing unconventional choreography to Sunmi, who played around on the stage. The special chemistry between Sunmi, Emperor Emperor, and Se-Chan Yang attracted curiosity from viewers. So, many viewers wondered what content will be present in this week's 'Psychorus' section.
Comedy Big League entered the 10th round of the first quarter in 2021. So, from next week they will move to a double victory point rule. Each corner is planning to come up with a hidden secret weapon to reach their goal.
The '2021 Supercar Couple' is firmly keeping the leading position. Eun-Hyung Lee, Jae-Joon Kang, Yun-Hwa Hong, Min-Ki Kim, Eun-Ji Lee, and Eun-Geun Lee have raised viewers' anticipation of predicting a war.
'1%' ranked next to '2021 Supercar Couple' with the difference between two points only. In here, Do-Yeon Jang and Chan-Ki Min showed a love story for their reunion.
In addition, Guk-Ju and Sang-Jun Lee in the 'Dynamic Boss' corner continued their talk about their theme 'Remembrance of the Broken Reason'. This theme shows the dance battle between the two, which adds to the excitement of the show.
Meanwhile, 'Comedy Big League' airs every Sunday at 7:45 pm.
READ MORE:
Brave Girls Appeared On tvN's 'Comedy Big League'
Chi-Seung Yang Said To NCT's Jaehyun, "Did you know its close to the hostel?" On The KBS2 Program 'Donkey Ears'
2021 kpop girl idols
,
2021 kpop news
,
2021 kpop news updates
,
2021 kpop updates
,
2021 updates on kpop
,
KPOP
,
Kpop 2021
,
Kpop artist
,
Kpop artists
,
Kpop idols
,
Kpop news
,
Kpop trending
,
KPop trending news
,
kpop trending update
,
KPOP2021
,
Kpopall
,
KPOPIDA
,
KPOPNEWS
,
Kpopnews 2021
,
Kpopnews2021
,
Sunmi
,
sunmi on comedy big league
,
sunmi wondergirls
,
Trending
,
trending 2021
,
Trending Kpop news
,
trending news