After the heated and fierce fight of the wonderful 'sisters,' Holy Bang, led by Honey J, won the final victory on Mnet's 'Street Woman Fighter.' Amid explosive interest, the first schedule of the 'Street Woman Fighter' winner, Holy Bang, is a photo shoot for the magazine 1st Look.
Holy Bang announced a splendid start by decorating the cover of the magazine 1st Look.
An outdoor brand accompanies the pictorial of 1st Look. All of the Holy bang members showed their presence in the pictorial.
The dancers' unique body movements and intense looks created poses as good as fashion models. Rumor has it that all members, including Honey J, showed great concentration without losing energy despite the swirling schedule. So, it is attracting admiration from the field staff.
When asked in the interview, "Did you expect such an explosive response?" Jane said, "Never. As a dancer, I've never imagined that I'd go through this in my life. I thought the words 'dancer' and 'popularity' were completely different. I'm so surprised and grateful to receive so much love and attention that I never imagined," she said.
When asked, "Isn't it a big responsibility as there are more people paying attention?" Honey J said, "I feel responsible for showing a good performance as much as the people love us. There are more things that the public expects from me. It's even a little embarrassing, but my story was out on social media, so I decided to live a really good life. Haha. I always remind the members, "Let's not be swept away, let's just do what we usually do, and let's not lose our pure heart at first." I want to boldly challenge and do it in a way that doesn't lose the color of 'Holy Bang' while grateful that the opportunities to challenge various things are full," she replied.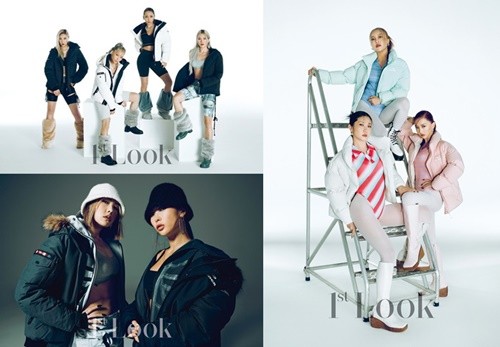 You can find Holy Bang's pictorials and interviews through magazine 1st Look No. 229, published on November 4. In addition, they will release dance videos filmed with the privilege of winning the 'Street Woman Fighter' and behind-the-scenes footage of the filming site and digital interview videos that vividly capture the charm of the Holy Bang members. Fans can check it out through 1st Look Instagram and YouTube.
Read More About: 2AM Jinwoon Jeong heralds A Successful Comeback With A New Album & Movie Projects
best Kpop girl group
,
best kpop news site
,
best kpopstar
,
breaking news kpop
,
daily kpop news
,
Fandom
,
Jinwoo Kim
,
Korean celeb news
,
Korean singer
,
Korean singer songwriter
,
KPOP
,
Kpop album
,
Kpop beauty routine
,
Kpop boy group
,
kpop celebrity news
,
Kpop chart and news
,
Kpop colllaboration
,
KPOP comeback
,
Kpop current news
,
kpop daily news
,
Kpop fashion
,
Kpop girls group
,
kpop group winner
,
Kpop idols
,
Kpop issues
,
Kpop latest news
,
Kpop music chart
,
Kpop news
,
Kpop news articles
,
Kpop news sites
,
kpop news update
,
Kpop recent news
,
Kpop skin care routine
,
Kpop skincare routine
,
KPop trending news
,
KPOPNEWS
,
minho song
,
Mnet
,
Mnet program
,
MNET SHOW
,
Mnet TMI News
,
Seunghoon Lee
,
Seungyoon Kang
,
South Korean singer songwriter
,
the best kpop girl group
,
the best kpop girl group of 2021
,
the best kpop group of 2021
,
the top kpop group
,
TMI NEWS
,
top kpop boy group
,
top kpop girl group
,
WINNER
,
WINNER members