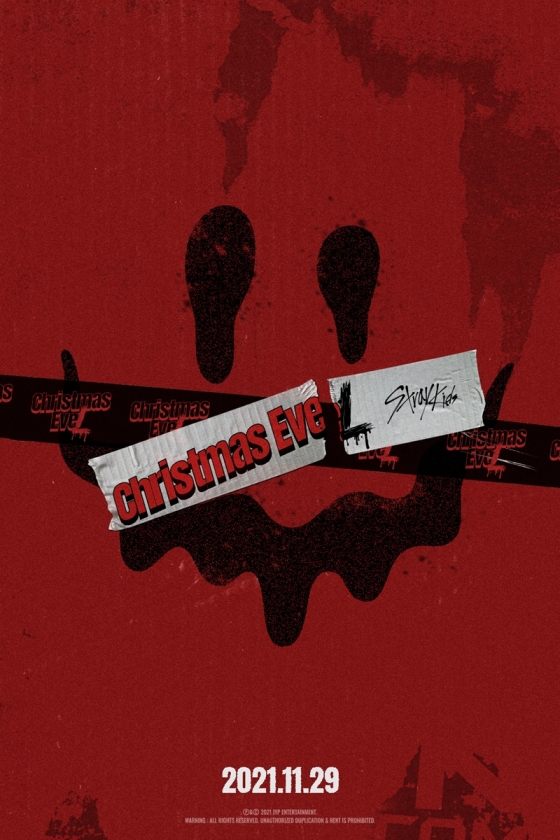 Kpop group Stray Kids has unveiled a new content 'Christmas EveL' poster.

JYP Entertainment suddenly released a poster image on Stray Kids' official social media channel on November 11, heralding a new project. The word 'Christmas EveL,' which adds the letter 'L,' appeared on 'Christmas Eve,' raising questions about the new project.

The poster painted with intense red added to the smiling emoticon, creating a chilling atmosphere. Along with this, the poster showed the date '202111.29,' amplifying viewers' curiosity.

Stray Kids announced the group's aspirations and plans, including their first official fan meeting, its own reality content, second full-length album, seasonal song, collaboration, and pop-up store, in the video 'Stray Kids 'STEP OUT 2021,' released on January 1 this year. Starting with the hosting of the fan meeting, the members showed extraordinary love for fans by sequentially keeping their promises, such as their own reality show, 'SKZ CODE,' and global collaborations.

Stray Kids' second full-length album 'NOEASY' and title song 'Thunderous,' released in August this year, achieved their best performance in various indicators. It surpassed 1.21 million cumulative shipments of Gaon Chart in September. As a result, Stray Kids became the 'Million Selling Artist' three years after their debut.

In addition, Stray Kids stands out globally. Recently, Changbin drew attention by participating in the new hip-hop genre 'Mirror Mirror' released by famous Thai rapper F.HERO and Thai rising artist MILLI on October 28. Changbin was in charge of rap making and successfully carried out collaborations such as filming a music video in Korea.
'Mirror Mirror' topped the iTunes song chart in six overseas regions, including Thailand, as of October 29. Then, Bangchan, Lee Know, Changbin, Hyunjin, Han, Felix, Seungmin, and I.N appeared on the famous Japanese YouTube music channel 'THE FIRST TAKE' on November 10. Stray Kids entertained local fans by presenting a one-take live performance of their second Japanese single title song, 'Scars.'
They previously released the 'SLUMP-Japanese ver.' on their YouTube channel, which drew a lot of attention. It even surpassed 10 million views on YouTube as of October 28.

Meanwhile, Kpop group Stray Kids performed well with 'ALL IN (Korean Ver.)' in November 2020. Earlier, in December 2019, they prepared various year-end events, such as releasing the digital single 'Mixtape: Gone Days' to present joy to fans. They will announce a new project on November 29 and color the end of 2021 more warmly.
Read More About: TXT Topped The Oricon Daily Chart With 'Chaotic Wonderland'
2021 kpop news
,
2021 kpop news updates
,
2021 news kpop
,
best kpop news site
,
best kpopstar
,
daily kpop news
,
Korean celeb news
,
KPOP
,
Kpop 2021
,
Kpop artist
,
Kpop artists
,
kpop celebrity news
,
kpop daily news
,
kpop group stray kids
,
Kpop idols
,
Kpop latest news
,
Kpop news
,
kpop news update
,
Kpop recent news
,
Kpop star
,
kpop stray kids
,
Kpop Straykids
,
Kpop trend
,
Kpop trending
,
KPop trending news
,
Kpop trending now
,
KPOP2021
,
Kpopall
,
KPOPIDA
,
KPOPNEWS
,
Kpopnews 2021
,
Kpopnews2021
,
Kpopstar
,
KPopstar bullying
,
Kpopstar tv program
,
Kpopstars
,
latest kpop news
,
recent kpop news
,
Star To A Young Culture
,
Stray Kids
,
Stray Kids Collab Song
,
Stray kids hyunjin
,
stray kids k-pop
,
STRAY KIDS KPOP
,
Stray Kids member
,
STRAY KIDS NOEASY
,
stray kids Woojin Kim
,
Stray Kids_Felix
,
Stray Kids_Going Dumb
,
STRAY KIDS_MIXTAPE: OH
,
straykids
,
Trending Kpop news
,
trending news