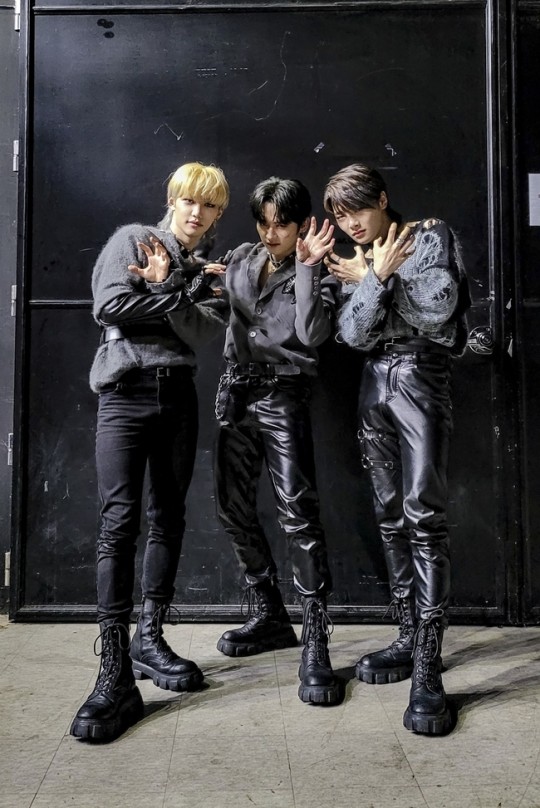 Boy group Stray Kids has risen to the No. 1 spot in 'Kingdom' with enthusiastic support from fans around the world.
Stray Kids topped in the current comprehensive ranking announcement of the 7th episode of Mnet's 'Kingdom: Legendary War,' aired on May 13. This is a comprehensive ranking of experts in the first and second contests, self-evaluation, video views, and global evaluation scores. It includes face-to-face benefits, which proved the influence of Stray Kids.
Stray Kids ranked first with 4,679.776 points in the final ranking of the first competition. The second competition's combined ranking, excluding the video view count, ranked fifth with 2,815.294 points. As a result of adding all the evaluation scores, the first and second competition, which did not include evaluating the number of views in the second competition, they reached the top with 8,495.070. At the end of the 7th round, they showed off their performance by maintaining the top spot with 9,066.024 points in the current overall ranking. It also adds to the face-to-face benefits and all evaluation items from the first and second competitions.
They proved their popularity Worldwide by winning first place in global fan evaluations. In fact, they won three consecutive times, from face-to-face meetings to first and second competitions. Stray Kids especially stood out in video views, an indicator of the support from domestic and foreign fans. They performed their songs, 'MIROH,' for their 100-second song performance. For the first contest, they performed 'God's menu' and 'Side Effects' mash-up. Their second performance is the full version of 'I'll Be Your Man' by their seniors BTOB. They recreated it and posted it on YouTube.
Stray Kids organized rap, dance, and vocal units with BTOB and ATEEZ in the 3rd contest, 'NO LIMIT.'
In the 7th episode of 'Kingdom,' they revealed rap and dance unit performances. So, Stray Kids raised expectations along with group 3RACHA, a three-member rap subunit consisting of Bang Chan, Changbin, and Han.
Bang Chan discussed the direction of his self-composed song. He said, "I think it's good to express the meaning of 'We are One With Music' in color."
Then, he joined forces with the unit members to complete the new song 'Playing With Paint.'
In fact, Bang Chan participated in writing, composing, and arranging the songs of the contest. Therefore, it only reveals the power of his own production group. The rap unit generously showed off its solid skills, garnering admiration from viewers. As a result of completing a pleasant and festive performance, they won the victory. They gathered 23 votes in the special evaluation team.
Lee Know, Felix, and I.N came out as dance units. They showed an intense performance with EXO's 'Wolf' to create spectacular views. Their appearance that expresses the wolf dramatically caught the eye of the fans. They even boasted perfect group chemistry with fantastic teamwork. Particularly, Stray Kids Felix succeeded in the difficult point of choreography. It is when he ran to Wooyoung, a member of ATEEZ, and lands on him. It gives a gauge of his extraordinary amount of practice.
Also, the rap and dance performance of BTOB, Stray Kids, and ATEEZ's unit 'MayFly' received hot support from viewers worldwide. The rap unit video uploaded to Mnet's official YouTube channel 'Mnet K-POP' received 500,000 views as of 8 am on May 14. In about 10 hours after its release, the dance unit video exceeded 700,000 views.
Stray Kids has become an unwavering k-pop group for domestic and foreign viewers. They are combining good performances and live skills, as well as brilliant ideas for every contest of 'Kingdom.' In the eighth episode of 'Kingdom,' which will air at 7:50 pm on May 20, you will be able to meet Seungmin's vocal unit performance. Many viewers' hearts flutter just by watching his preview! Stay tuned for next week.
Read More About: Seventeen 3rd Japanese Album Certified As 'Double Platinum'
3racha
,
kingdom
,
KPOP
,
Kpop 2021
,
Kpop artist
,
Kpop artists
,
Kpop idols
,
Kpop news
,
kpop stray kids
,
Kpop Straykids
,
Kpop trend
,
Kpop trending
,
KPop trending news
,
Kpop trending now
,
KPOP2021
,
KPOPIDA
,
KPOPNEWS
,
Mnet Kingdom
,
stray kids k-pop
,
straykids
,
Trending
,
trending 2021
,
trending kpop
,
Trending Kpop news
,
trending kpop update
,
trending news
,
trending update kpop