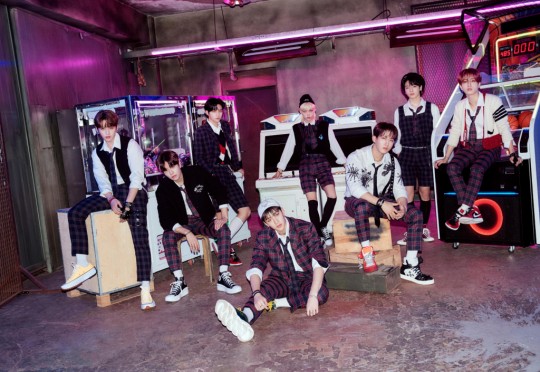 Kpop group Stray Kids topped the Gaon Monthly Album Chart with their special holiday single 'Christmas EveL.'
According to the Korea Music Contents Association, which operates the Gaon Chart, Stray Kids' single album 'Christmas EveL,' released on November 29, sold 654,658 copies and climbed to the top of the monthly album chart in November 2021. Stray Kids previously took first place on Gaon 2021 Retail Album Chart and Hanteo Weekly Album Chart. Also, they even topped the monthly chart, showing off their album power.
Accordingly, US Forbes said on December 9, "Stray Kids' new single album sold more than 650,000 copies in November."
Considering that the album was released on November 29, it drew attention by highlighting it as a truly huge record.
This year, the single album 'Christmas EveL,' in response to the great love sent by fans worldwide, has performed well on various charts in Korea and abroad. On the day of its release, it ranked 2nd on the Worldwide iTunes album chart and topped the iTunes album chart in 23 regions as of 8 am on November 30.
The title song of the same name entered 10th place on the US Billboard World Digital Song Sales chart on December 11. Then, it topped the iTunes song chart in 27 regions overseas. In addition, Stray Kids was delighted to be called No. 1 on KBS 2TV's music broadcast program 'Music Bank,' which aired on December 10.
The 2nd full-length album, 'NOEASY,' surpassed 1.27 million copies based on cumulative shipments of Gaon Chart. So, they become 'Million Sellers.'
Then, Kpop group Stray Kids became one of the 'Best Kpop Albums of 2021' by the US TIME magazine. On December 8, TIME's official website made it clear that "the eight members have no intention of lowering their voices by wordplay 'NOEASY.' The first line of the title song 'Thunderous,' "Oh, I'm Oh Changbin, I'm screaming, and I'm drunk in my place," shows this well."
TIME added, "'Thunderous' hits listeners' ears with gold-bronze instruments, car horn sounds, and metal sounds as Stray Kids push like bulldozers from beginning to end. In addition, even sounds that seem as noise act as charms in this album."
Stray Kids, who achieved 'Career High' with two albums released in 2021, added another achievement. At the 2021 Mnet Asian Music Awards (2021 MAMA), held on December 11, they won the 'World Wide Fan' CHOICE TOP 10′ award. They said, "Thanks to the great love and support of STAY (fandom), we received this award. In the future, we will continue to enjoy music and performances without losing our original intentions. Thank you so much, and we love you," expressing their gratitude to fans around the world.
They showed off their 'K-Performance Leader' aspect with an all-time scale and unique worldview. The intro track 'CHEESE' of the second full-length album 'NOEASY' boasted the team's unique, pleasant charm. Also, they revealed the outspoken momentum of 'All-round Talents' through the hero version of 'Thunderous' performance. They are imprinting their presence on worldwide viewers.
Meanwhile, Kpop group Stray Kids lifted the 'Performance of the Year' trophy at the '2021 Asia Artist Awards' held on December 2. In fact, they won the grand prize for the first time three years after their debut. They are decorating the end of the year splendidly by winning the main award at the 2021 MAMA.'
Read More About: SEVENTEEN Ranks 1st On Japan Oricon Daily Singles Chart For 5 Days In A Row
Back Door
,
Bangchan
,
best Kpop girl group
,
best kpop news site
,
best kpopstar
,
breaking news kpop
,
Changbin
,
daily kpop news
,
Fandom
,
Felix
,
Go Live
,
God's Menu
,
Han
,
Hyunjin
,
I.N
,
In Life
,
Korean celeb news
,
Korean singer
,
Korean singer songwriter
,
KPOP
,
Kpop album
,
kpop award ceremony
,
Kpop awards
,
Kpop beauty routine
,
Kpop boy group
,
kpop celebrity news
,
Kpop chart and news
,
Kpop colllaboration
,
KPOP comeback
,
Kpop current news
,
kpop daily news
,
Kpop fashion
,
Kpop girls group
,
Kpop idols
,
Kpop issues
,
Kpop latest news
,
KPOP MAMA awards
,
kpop music awards
,
Kpop music chart
,
Kpop news
,
Kpop news articles
,
Kpop news sites
,
kpop news update
,
Kpop recent news
,
Kpop skin care routine
,
Kpop skincare routine
,
kpop stray kids
,
KPop trending news
,
KPOPNEWS
,
Lee Know
,
MAMA
,
MAMA awards
,
MAMA kpop
,
Mnet
,
Mnet Asian Music Awards
,
Mnet program
,
MNET SHOW
,
Mnet TMI News
,
Seungmin
,
South Korean singer songwriter
,
Stray Kids
,
Stray Kids member
,
the best kpop girl group
,
the best kpop girl group of 2021
,
the best kpop group of 2021
,
the top kpop group
,
TMI NEWS
,
top kpop boy group
,
top kpop girl group