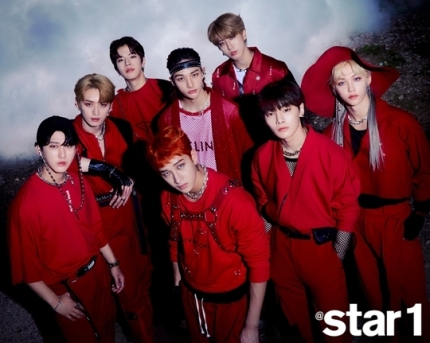 Kpop group Stray Kids showed off the true value of a growing group by rising to the million-seller ranks with their 2nd full-length album 'NOEASY.'
As of August 31st, Stray Kids' new album 'NOEASY' has exceeded the cumulative shipments of 1.1 million copies on the Gaon Chart. This is the first million-seller record for an album produced by JYP Entertainment. It is even more meaningful as it is Stray Kids' achievement with their tenacity and sincere journey. They have been keeping track of self-composed songs since their debut.
In March 2018, Stray Kids showed off differentiated music, individuality, and free spirit. They participated in writing and composing all the songs of their debut album 'I am NOT,' making a splendid prelude to the 'self-producing group.'
The album topped the iTunes album charts in 10 overseas regions, including Canada and Thailand. Overseas media, including US Billboard, focused on Stray Kids' extraordinary moves and showed high expectations for the growth story that the '2018 Kpop group' will achieve.
In 2018, they presented sincere music, and outstanding performances through three mini-albums called the 'I am' series. They won 11 Rookie of the Year awards to mark the emergence of the 'next-generation K-pop representative group.'
In 2019, Stray Kids developed the 'Clé' series of three mini-albums, expressing their dreams more clearly. In addition to working on the album song, they directly participated in various fields such as producing, contributing concepts, and performing. They begin the signature teasing content 'UNVEIL: TRACK,' which pre-releases some of the album's songs in a sensational video. They expressed their confidence in the album they made themselves.
The fourth mini-album, 'Clé 1: MIROH,' topped iTunes album charts in 15 regions, including the US. Also, they entered the chart on the 90th place on Billboard's 'Artist 100' for the first time. Besides, Stray Kids enjoyed their win for the first time in a domestic music program with the title track 'MIROH.'
Stray Kids released two albums in 2020 and exploded their overflowing talent. The title song 'God's Menu' of the 1st full-length album 'GO LIVE' provides an addictive sound, fresh concept, and intense performance. They built a distinct group style of the 'Mala taste genre.' 
The album surpassed 200,000 pre-orders and broke its own records one after another. It ranked first on the iTunes album charts in 23 overseas regions, including the US and Canada. Following this momentum, they released the 1st repackage album 'IN LIFE' and the title song 'Back Door.'
It led listeners into the realm of Stray Kids with an upgraded 'Mala taste genre.'
The album pre-orders reached 300,000 copies, an increase of about 100,000 copies compared to the previous album. They ranked 4th on the US Billboard 'World Album' and 'Hitseekers Album' chart, 50th on the 'Independent Album' chart, and 100th on the 'Top Current Album Sales' chart.
The title song 'Back Door' ranked 2nd on Billboard's 'World Digital Song Sales' chart and 140th on the global top 200 chart of global music platform Spotify. It only proves their rapid global growth.
In June 2021, Stray Kids won the final victory in Mnet's 'Kingdom: Legendary War' and added bigger and more powerful wings to their infinite growth. The members have proved the true value of the team with their charm that has three elements. They can write lyrics, compose songs, and arrange music. Also, they create charismatic performances and showed their vocal skills. The group has firmly established itself as a 'K-pop representative male group.'
The new digital single 'Mixtape: Oh,' became a hot topic for the first time after their win on 'Kingdom.'
In fact, it ranked at the top of the US Billboard's 'World Digital Song Sales' chart without any promotions. So, they once again proved their explosive worldwide popularity. Particularly, it added significance to Stray Kids' as it's their first No. 1 ranking on the Billboard chart.
On August 23rd of this year, Stray Kids released their 2nd full-length album, 'NOEASY,' and the title song, 'Thunderous.'
The new album, released after about 11 months, contains their will to put a solid wedge in the group's identity. The new song 'Thunderous' reminds us of the strong perseverance they have maintained since their debut. They unraveled their firm belief that 'We will not be discouraged no matter what anyone says,' with Stray Kids' unique way of speaking. 
This time, they participated in the album's songs, led by the producing group 3RACHA. It gives value to their reputation as a 'self-producing group.'
They include a total of 14 songs, consisting of a unit song that highlighted a new musical combination and a final song, 'WOLFGANG.'
In addition, the unique concept of goblin and more advanced dynamic performance also helped captivate listeners around the world.
'NOEASY' pre-orders surpassed 830,000 copies on the afternoon of August 17th. It is six days before the album's release. Then, on August 23rd, they reached a new success with 930,000 pre-order copies, exceeding the previous tally. As a result, they went straight to 'million-sellers.'
As of August 31st, Gaon Chart's cumulative shipments exceeded 1.1 million copies and became a 'million-selling artist.'
The new album and title song added a new record on Spotify on the morning of August 31st. It follows the previous record of 1st place on the iTunes Song Chart in 52 overseas regions and 86th on the Spotify Global Top 200 Chart on August 24th. The 2nd regular album ranked 3rd on the Top 10 Global Album Debuts chart, and the Top 10 USA Album Debuts chart based on the latest released albums from August 27th to 29th, respectively. The album ranked 6th, and the new song 'Thunderous' ranked 7th on the Top 10 Global Song Debuts chart, increasing its global presence.
Before releasing this album, Stray Kids said, "We are always thinking about making witty and new music that only us can do. Finding something that others have not done is a task we continue to solve and should solve in the future."
Kpop group Stray Kids, who have been steadfast in their 'self-production' since their debut, have built their own solid territory and reached high places. They have succeeded in realizing their dream of moving forward. This is why expectations and attention are focused on their wider future. They have become more confident in their music and stage now that three years have passed since their debut.
Read More About: Minah Kwon Announced Her Comeback After 3 Years
KPOP
,
Kpop artist
,
Kpop artists
,
kpop group stray kids
,
Kpop news
,
Kpop recent news
,
kpop stray kids
,
Kpop Straykids
,
Kpop trend
,
Kpop trending
,
KPop trending news
,
Kpop trending now
,
kpop trending update
,
KPOP2021
,
KPOPIDA
,
KPOPNEWS
,
recent kpop news
,
Stray Kids Collab Song
,
Stray kids hyunjin
,
stray kids k-pop
,
STRAY KIDS KPOP
,
STRAY KIDS NOEASY
,
stray kids Woojin Kim
,
Stray Kids_Felix
,
Stray Kids_Going Dumb
,
STRAY KIDS_MIXTAPE: OH
,
straykids
,
Trending
,
trending 2021
,
trending kpop
,
Trending Kpop news
,
trending kpop update
,
trending news
,
trending update kpop