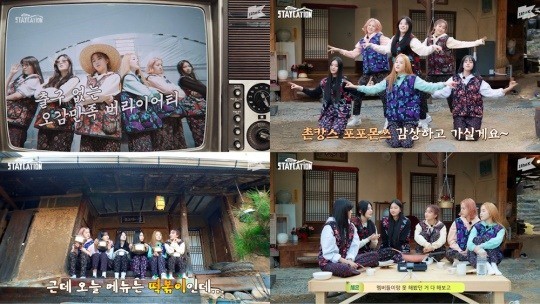 Girl group STAYC once again showed off on 'Staycation' with their various charms.
StayC (Sumin, Sieun, Isa, Seeun, Yoon, J) harvested strawberries and cooked Tteokbokki (spicy rice rakes) in episode 4 of 'Staycation,' released on the 1theK YouTube channel on May 13th. They showed a perfect adaptation to the countryside.
On that day, StayC appeared as residents' force heading to the strawberry farm. The group, who was harvesting strawberries, discuss the 'Strawberry Statue' among the members. Then Isa said, "When I see strawberries, I think of Yoon." So, Yoon said, "I looked like strawberries. My face turns red easily." She made a smile with a refreshing expression.
In addition, StayC transformed into 'Six Sisters of Strawberries' and introduced strawberries directly. They showed a retro mood with a witty speech giving the viewers laugher.
After returning to the accommodation, StayC started making tteokbokki, which was a "Wannabe" menu, for lunch. Among the six ingredients prepared by the production team, only one ingredient per member had to be selected to make tteokbokki telepathically. So, STAYC tried to send signals with each other and chose ingredients. But eventually showed frustration because they couldn't secure rice cake.
Accordingly, the production crew asked for the 'ASAP' 'Countryside' version, and STAYC performed a special 'ASAP' performance passionately. They received hot responses. In addition, they need to obtain additional ingredients for Tteokbokki. So, the members did the acrostic poem mission and showed off their extraordinary wit.
Lastly, the group said, "It was more fun because it was an unexpected trip. 'Countryside Vacation' is better than any other vacation. I was able to do everything I wrote on my vacation schedule."
Full of regret, StayC ended their special vacation by taking pictures in the background of the country house.
StayC released its second single, 'STAYDOM,' on the 8th of April. The group has been active with the title track 'ASAP,' breaking the record of the music and the album itself. 'ASAP' has been continuously ranking on Melon 24Hits, daily and weekly charts after its release. The music video surpassed 20 million views in 9 days after the release, proving its global popularity.
Read More About: Busan One Asia Festival K-Pop Concert Through Online
Korean pop stars
,
KPOP
,
Kpop 2021
,
Kpop artist
,
Kpop artists
,
Kpop idols
,
Kpop news
,
Kpop star
,
Kpop trending
,
KPop trending news
,
Kpop trending now
,
Kpop_StayC
,
KPOP2021
,
KPOPIDA
,
KPOPNEWS
,
Kpopstar
,
Kpopstars
,
Kstar
,
StayC
,
StayC comeback
,
stayc staycation
,
stayc_asap
,
trending kpop
,
Trending Kpop news
,
trending kpop update
,
trending news
,
trending update kpop