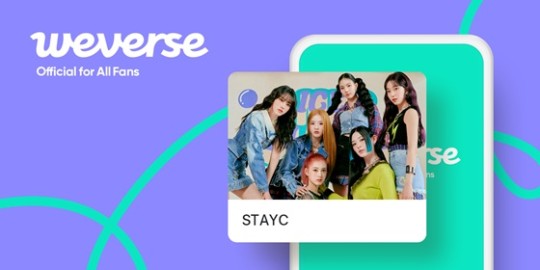 Kpop group STAYC joins 'Weverse.' On August 9th, High Up Entertainment said, "Kpop group STAYC will join the global fan community platform 'Weverse' and open their community."
Staying hot as a global rookie, they became one of US Grammy's 'Rising Korean Artists 5' and TIME Magazine's 'Best K-Pop in 2021' recently. Now, they decided to join Weverse.
By joining Weverse, STAYC expands its global fandom by communicating more closely with 'Swith (fandom name)' worldwide beyond language and borders.
To celebrate the opening of their Weverse community, STAYC will host a hashtag event until August 17th. You need to enter the hashtag (#SWITH_with_STAYC) on the group's Weverse. Then, write a post with your favorite STAYC's photo or animated GIF image along with your reason. Then, you will automatically enter the community. Among the event participants, they will select 20 to win an album with the members' autographs and a Polaroid photo of the members through a lottery.
With their debut album 'Star To A Young Culture,' STAYC debuted in November 2020. They broke the record sales volume of 10,000 copies in the first week of their album's release. So, they took first place among girl groups that debuted last year.
Then, they become popular among the public with its title track 'ASAP' from its second album, 'STAYDOM,' released in April.
STAYC continues to be a global rookie as they join Weverse. They are becoming a hot topic due to their entry along with domestic and foreign artists such as BTS, BLACKPINK, Seventeen, and New Hope Club. So, fans' interest in STAYC is increasing.
Read More About: Rocket Punch Debut Showcase In Japan, A Huge Success!
hybe weverse
,
Korean celeb news
,
KPOP
,
Kpop artist
,
Kpop artists
,
Kpop group STAYC
,
Kpop latest news
,
Kpop news
,
Kpop recent news
,
kpop stayc
,
Kpop trending
,
KPop trending news
,
Kpop_StayC
,
KPOP2021
,
KPOPIDA
,
KPOPNEWS
,
Kpopstars
,
latest kpop news
,
latest kpop updates
,
recent kpop news
,
StayC
,
StayC comeback
,
STAYC debut
,
STAYC joins Weverse
,
STAYC members
,
STAYC news
,
stayc staydom
,
stayc_asap
,
STAYDOM
,
Trending Kpop news
,
weverse