The new girl groups in 2022 have been fierce since the beginning of the year. While IVE, the last girl group to debut in 2021, is attracting attention in Korea and the global music market, Kep1er, the first girl group to debut in 2022, also announced a pleasant start with a performance comparable to this. In addition, the second-year girl group STAYC, which made unrivaled achievements after debuting last year, also brightened the outlook for 2022 with good results.
Recently, IVE entered the 'Viral Top 50' and 'Global Top 200' charts of Spotify, the world's largest music platform, through their debut song 'ELEVEN.'
Also, IVE proudly ranked on the 'Top 100 Most Popular Songs in Korea' chart for two weeks in a row with their debut song, 'ELEVEN.'
IVE showed the potential to rise to 4th place on the global chart of 'Viral Top 50' released by Spotify on December 27 last year and 1st place on the Korean chart. On the 'Global Top 200' chart, it first entered at 185th, and has continued to rise steadily and settled at 95th place, and took the first place in the Korean section.
In addition, IVE was selected as the No. 1 KPOP HITS playlist cover artist of the US TIDAL, a global high-quality music streaming service platform. Then, they ranked No. 1 on YouTube's 'Top 100 Popular Songs' chart for the second consecutive week with 'ELEVEN.'
IVE is leading the way as a 'super rookie' by achieving more than 150,000 initial sales with its debut album 'Eleven.'
They set the highest initial sales record among rookie groups who debuted in 2021. Also, they ranked at the top of five music shows and major music sites in Korea less than a month after their debut.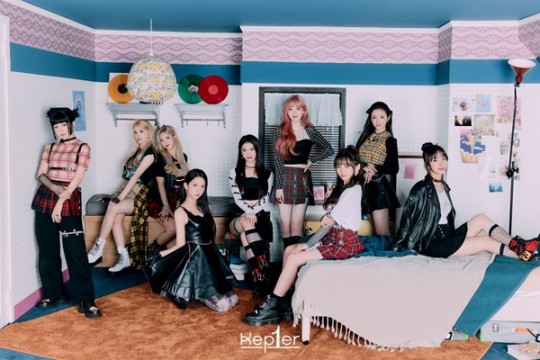 Kep1er, a rookie girl group, is also formidable. Kep1er is a nine-member girl group born through Mnet's 'Girls Planet 999.'
They made their debut with the first mini-album 'FIRST IMPACT' on January 3.
According to Hanteo Chart, Kep1er sold a total of 151,153 albums in one day on January 3. This is the highest daily sales of girl group debut albums ever. Kep1er's 'First Impact' is the only one that recorded sales of more than 150,000 copies on the first day alone. They recorded sales of more than 150,000 albums a day after its release. So, they will surely set an initial record for all-girl group debut albums.
Overseas fans also show hot interest in Kep1er's debut album. According to global music streaming platform iTunes, 'FIRST IMPACT' topped the overall genre chart in 11 countries. It includes iTunes Japan, India, Vietnam, Malaysia, Thailand, Chile, Mexico, Singapore, the Philippines, Brazil, and Indonesia. Kep1er proved its momentum by reaching the top in 23 Kpop genre charts.
Meanwhile, the Kpop group STAYC also added meaningful indicators. Recently, they emerged as the only Korean singer among the five '2022 Artists to Pay attention' selected by global music platform Apple Music and Music Discovery app Shazam.
STAYC's second single 'STAYDOM' title song 'ASAP,' released in April last year, has been at the top of the Korean Shazam chart since its release. Thanks to this rise, STAYC was the only Korean singer selected as one of the five artists to pay attention to in 2022.
Last year, they established themselves as the 'fourth-generation leading idol group' by making a series of hits with 'ASAP' and 'STEREOTYPE.'
So, fans are paying attention to their performance this year, which has been recognized in the global music market.
Furthermore, this year, in addition to IVE and Kep1er, prominent girl groups such as JYP Entertainment's rookie girl group, a new label 'ADOR' established by HYBE Heejin Min CBO, Source Music's so-called 'Sakura Girl Group,' and Mnet's 'I-Land 2' are preparing to launch their new girl groups. Also, YG Entertainment plans to feature BLACKPINK's younger group, which will surely be fiercer than ever.
Read More About: WEi Yohan Kim Shows Dangerous Love Acting Through The 'DESSERT' MV Teaser
ASAP
,
best Kpop girl group
,
best kpop news site
,
best kpopstar
,
breaking news kpop
,
daily kpop news
,
Fandom
,
girl group Kep1er
,
group Kep1er
,
kep1er
,
Kep1er debut
,
Kep1er kpop
,
Kep1er members
,
Kep1er news
,
Korean celeb news
,
Korean singer
,
Korean singer songwriter
,
KPOP
,
Kpop album
,
Kpop beauty routine
,
Kpop boy group
,
kpop celebrity news
,
Kpop chart and news
,
Kpop colllaboration
,
KPOP comeback
,
Kpop current news
,
kpop daily news
,
Kpop fashion
,
Kpop girls group
,
Kpop group STAYC
,
Kpop idols
,
Kpop issues
,
kpop Kep1er
,
kpop Kep1er news
,
Kpop latest news
,
Kpop music chart
,
Kpop news
,
Kpop news articles
,
Kpop news sites
,
kpop news update
,
Kpop recent news
,
Kpop skin care routine
,
Kpop skincare routine
,
kpop stayc
,
KPop trending news
,
Kpop_StayC
,
KPOPNEWS
,
Mnet
,
Mnet program
,
MNET SHOW
,
Mnet TMI News
,
rookie group Kep1er
,
rookie Kep1er
,
South Korean singer songwriter
,
Star To A Young Culture
,
StayC
,
StayC comeback
,
STAYC debut
,
STAYC joins Weverse
,
STAYC members
,
STAYC news
,
stayc staycation
,
stayc staydom
,
stayc_asap
,
STAYDOM
,
the best kpop girl group
,
the best kpop girl group of 2021
,
the best kpop group of 2021
,
the top kpop group
,
TMI NEWS
,
top kpop boy group
,
top kpop girl group