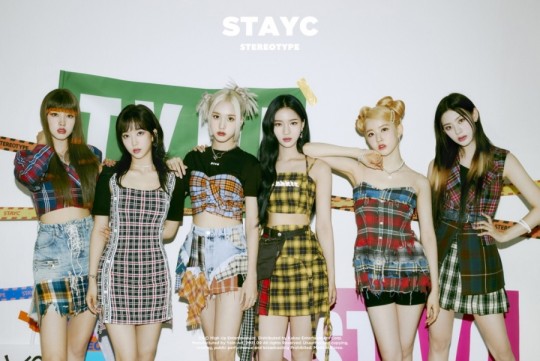 Kpop group STAYC released their last group concept photo before their comeback. STAYC (Sumin, Sieun, ISA, Seeun, Yoon, and J) posted 2 photos of their 2nd group concept of the first mini-album 'Stereotype' through their official social media account at midnight on August 27th.
As with the second individual concept photos of the members previously released, in this group photo, STAYC showed similar but different charms in various styles of checkered-patterned outfits.
In the first photo, STAYC exuded a unique funky charm with bold and retro styling. The free-spirited and dignified members' poses and the vivid colors of the images catch the eye of the fans.
In the second photo, you can see STAYC's elegant and dreamy charm. While the calmer mood stands out, the innocent visual that looks like a doll is stealing the hearts of fans.
With this, STAYC has finished releasing the 1st and 2nd concept photos before their comeback. Through the concept photo of 'Stereotype' that they released so far, STAYC showed off their superior visuals at different levels. In addition, the same clothes and colors created a variety of moods, raising expectations and curiosity about the concept.
The first mini-album 'Stereotype' released by the 'fourth generation representative group' STAYC, who has both skills and visuals, is a new album after about 5 months since the second single 'Staydom' in April. You can get a glimpse of the colorful charms of the members, who have returned with a more mature appearance.
Kpop group STAYC's first mini-album, 'Stereotype,' will be released on various online music sites at 6 pm on September 6th. In addition, pre-orders for physical albums are in progress through all online music sites.
Read More About: ONF, 'Popping' Is One Of The Top Ten Hits In The US By Forbes
Korean celeb news
,
KPOP
,
Kpop artist
,
Kpop artists
,
kpop celebrity news
,
Kpop group STAYC
,
Kpop news
,
Kpop recent news
,
kpop stayc
,
Kpop trend
,
Kpop trending
,
KPop trending news
,
Kpop trending now
,
kpop trending update
,
Kpop_StayC
,
KPOP2021
,
KPOPIDA
,
KPOPNEWS
,
recent kpop news
,
StayC
,
StayC comeback
,
STAYC debut
,
STAYC joins Weverse
,
STAYC members
,
STAYC news
,
stayc staycation
,
stayc staydom
,
stayc_asap
,
Trending
,
trending 2021
,
trending kpop
,
Trending Kpop news
,
trending kpop update
,
trending news
,
trending update kpop