Group (G)I-DLE's Soyeon Jeon has released a lyric video for her new song 'BEAM BEAM.'
Cube Entertainment released a lyric video for the title song 'BEAM BEAM' of Soyeon Jeon's 1st mini-album 'Windy' through (G)I-DLE's official YouTube channel at 8 pm on July 13th.
In the released lyric video, Soyeon Jeon was seen riding a skateboard in a free-spirited and relaxed look like the wind. It captured the attention of viewers. Particularly, her beauty expresses the sensibility of the 'Millenials and Generation Z.'
The cool and refreshing filter and the lively font of the yellow color harmonize, adding to the song's charm. So, it is gathering hot responses from fans.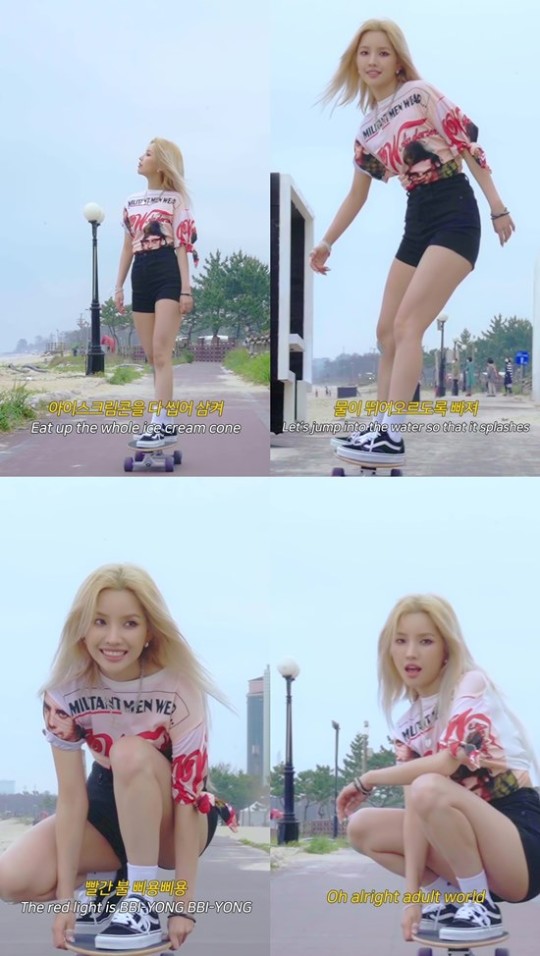 The new song 'BEAM BEAM' is a rock and hip-hop genre song that expresses the sun's rays. It is gaining global popularity with the song atmosphere that goes well with summer, addictive melody, and splendid performances.
The 1st mini-album 'Windy,' released on July 5th, topped the iTunes top album charts in 21 regions worldwide. The music video has surpassed 11.5 million views on YouTube. It has been aiming for the tastes of global K-pop listeners, such as rising in popularity.
Soyeon Jeon plans to continue her activities with the new song 'BEAM BEAM.'
Read More About: Rocket Punch 'Ring Ring' Acoustic Version MV Teaser Released
2021 kpop news
,
2021 kpop news updates
,
2021 kpop updates
,
2021 updates on kpop
,
g-idle_jeon Soyeon
,
jeon soyeon
,
Jeon Soyeon_Windy
,
KPOP
,
Kpop 2021
,
Kpop artist
,
Kpop artists
,
Kpop idols
,
Kpop news
,
kpop soyeon jeon
,
Kpop trend
,
Kpop trending
,
KPop trending news
,
Kpop trending now
,
kpop trending update
,
KPOP2021
,
Kpopall
,
KPOPIDA
,
KPOPNEWS
,
Soyeon Jeon
,
Soyeon Jeon Beam Beam
,
Trending
,
trending 2021
,
trending kpop
,
Trending Kpop news
,
trending kpop update
,
trending news
,
trending update kpop