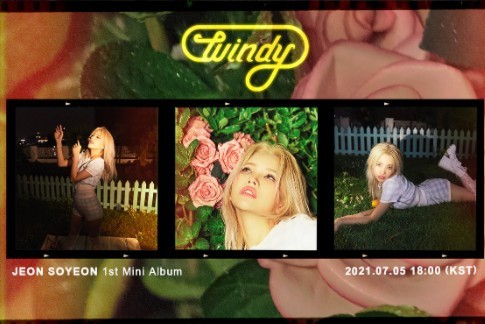 (G)I-DLE Soyeon Jeon released the concept image for 'Windy' and attracts attention. 

At midnight and noon on June 29th, (G)I-DLE's official social media channel posted two of the second concept images of Soyeon Jeon's solo album 'Windy.'

Soyeon Jeon's concept image, released today, June 29th, showed off her seductive charm. Her sharp eyes and a chic black color outfit add to the beauty of the concept image. On the second concept image, released at noon, she expressed a chameleon-like side by exuding a dreamy pose and mood in a rough filter that looked like it was taken with a film camera.

After announcing the release of her first mini-album 'Windy,' Soyeon Jeon caught the attention of the local and foreign fans. She reveals the behind-the-scenes of the album production. It is through a documentary about her daily life, which she revealed for the first time since her debut. 
Particularly, Soyeon Jeon actively participated in the concept and style of the song through this solo album. It expresses her own sincerity and ideas. Soyeon Jeon is the group leader of (G)I-DLE and recognized as an 'artist idol' with composing, lyric writing and producing abilities. So, fans are curious about what new side she will show in her first mini-album, 'Windy.'
In fact, this album will be her first solo album release after 4 years since her debut.

Soyeon Jeon will release her first mini-album 'Windy' on July 5 at 6 pm (KST).
Read More About: SKYLE, The Korean-Chinese Girl Group, Set To Debut In July
2021 kpop
,
2021 kpop girl idols
,
2021 kpop news
,
2021 kpop news updates
,
2021 kpop updates
,
2021 news kpop
,
2021 updates on kpop
,
g-idle
,
G-IDLE kpop
,
g-idle news
,
g-idle_jeon Soyeon
,
jeon soyeon
,
Jeon Soyeon_Windy
,
KPOP
,
Kpop 2021
,
Kpop artist
,
Kpop artists
,
Kpop idols
,
Kpop news
,
Kpop trend
,
Kpop trending
,
KPop trending news
,
Kpop trending now
,
kpop trending update
,
KPOP2021
,
Kpopall
,
KPOPIDA
,
KPOPNEWS
,
Kpopnews 2021
,
Kpopnews2021
,
Trending
,
trending 2021
,
trending kpop
,
Trending Kpop news
,
trending kpop update
,
trending news
,
trending update kpop