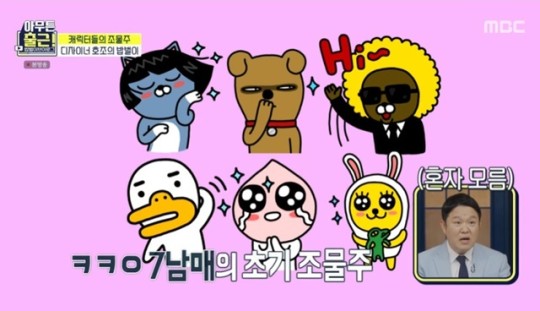 Soonho Kwon (a.k.a Hojo) is the creator of the Gangnam Style Psy Character.
Character designer Soonho Kwon appeared in MBC's 'Anyway to Work', which aired on April 20th.
Kwanghee told Soonho Kwon, who created the Friends character, "I like the lion character the most." Then he replied, "I didn't make a lion. In my early days, I made pickled radish, crocodile, duck, puppy, peach." Kwanghee said, "Did you make everything except lions? I will apologize for being bored."
Subsequently, Soonho Kwon unveiled a Vlog and said, "I am Soonho Kwon, a 22-year-old character designer who is active under the name of Hojo. It is worth knowing that I have friends, and created the Gangnam Style Psy character," as he introduced himself.
Meanwhile, designer Hojo said, "I joined a venture company and worked as a designer. But, many people were saying that it was a venture bubble. The company collapses in six months. Should I say that it is my second wandering after moving to a game company? Designers want to paint themselves. I was lucky to attract attention when I was drawing a picture I wanted to draw on the website." He shared the process of becoming a character designer.
Read More About: Psy And Jessi Took The "What Type Of X" Challenge
2021 kpop news
,
2021 kpop updates
,
character designer soonho kwon
,
gangnam style
,
gangnam style psy character
,
Kpop artist
,
Kpop artists
,
Kpop idols
,
Kpop news
,
Kpop trending
,
KPop trending news
,
Kpop trending now
,
KPOP2021
,
KPOPIDA
,
KPOPNEWS
,
Kpopstars
,
Psy
,
psy gangnam style
,
psy kpop
,
psy kpop gangnam style
,
soonho kwon
,
Trending
,
trending 2021
,
trending kpop
,
Trending Kpop news
,
trending kpop update
,
trending news