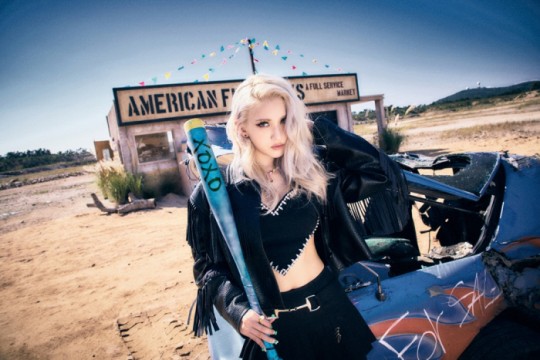 Kpop singer Somi Jeon proved her 'solo queen' power once again by continuing her hit streak with 'XOXO.' Somi Jeon's first full-length album 'XOXO,' released at 6 pm on October 29, topped the iTunes KPop Top Albums Chart as of 6:38 am on October 30, proving her global popularity.
The title song 'XOXO' topped the iTunes KPop Top Song Chart. Also, the b-side songs 'Anymore,' 'Watermelon,' 'Don't Let Me Go (Feat. Giriboy)' and 'DUMB DUMB' also achieved a feat of ranking at the top of the charts.
She also proved her strong global influence by taking the top spot on the Worldwide Album Chart as of 2 pm on October 30.
The number of views of the 'XOXO' music video is also showing a steep rise. As of 8:30 pm on October 30, about a day after its release, the number of YouTube views exceeded 14.5 million. So, it only confirms the dazzling footsteps that Somi Jeon wrote as a Kpop female solo artist.
'XOXO' is a new album by Somi Jeon, who makes a high-speed comeback after three months since 'DUMB DUMB,' released in August. Also, it is her first full-length album released after two years since her solo debut.
The title song 'XOXO' of the pop genre with Somi Jeon's unique voice is an impressive song with a twist in the lyrics in contrast to the lovely title. Notably, it is drawing sympathy from music fans by sending off their loved ones without hesitation in a breakup situation.
Kpop singer Somi Jeon, who signaled a successful comeback, will be active starting with SBS's 'Inkigayo' today, October 31.
Read More About: EXO Chanyeol Donates 16 Million Won To 'Snail Of Love' To Help Support Deaf Children
2021 kpop news
,
2021 kpop news updates
,
2021 kpop updates
,
2021 news kpop
,
best kpop news site
,
daily kpop news
,
jeon somi
,
Korean celeb news
,
KPOP
,
Kpop 2021
,
Kpop artist
,
Kpop artists
,
kpop celebrity news
,
kpop daily news
,
Kpop idols
,
kpop jeon somi
,
Kpop latest news
,
Kpop news
,
Kpop recent news
,
kpop somi jeoon
,
Kpop trend
,
Kpop trending
,
KPop trending news
,
Kpop trending now
,
kpop trending update
,
KPOP2021
,
Kpopall
,
KPOPIDA
,
KPOPNEWS
,
Kpopnews 2021
,
Kpopnews2021
,
latest kpop news
,
recent kpop news
,
singer Somi Jeon
,
Somi Jeon
,
Somi Jeon Comeback
,
Somi jeon vlive
,
Somi Jeon_Dumb Dumb
,
somin jeon
,
Trending
,
trending 2021
,
trending kpop
,
Trending Kpop news
,
trending kpop update
,
trending news
,
trending update kpop
,
xoxo