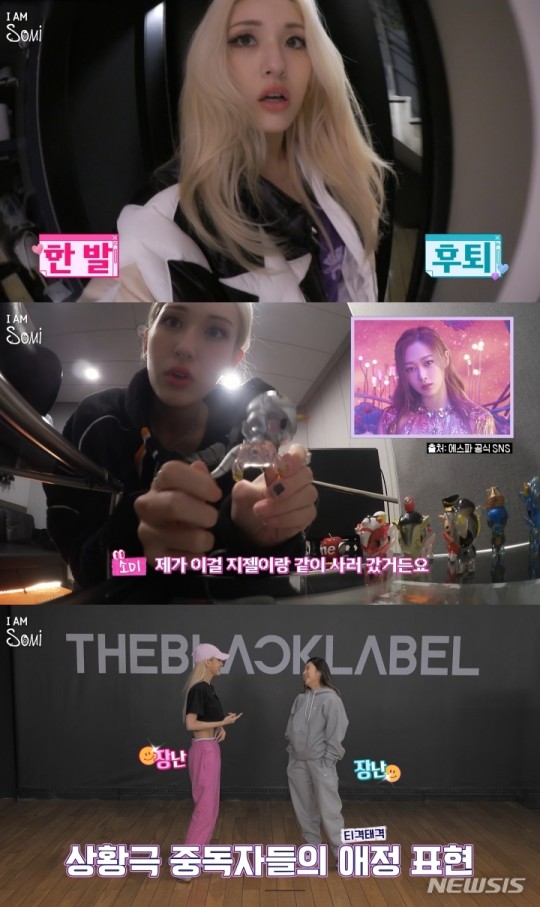 Kpop singer Somi Jeon showed her daily life in a special video for fans.
On January 2, The Black Label agency announced, "We have released a special clip of Somi Jeon's exclusive reality show 'I AM SOMI: XOXO' through the official YouTube channel."
In the video, Somi made her own cheering method for the title song 'XOXO' of the same name as her first full album 'XOXO.'
She said, "I want to hear Somtaengs and Sommungchis (fandom name)'s cheer."
In addition, she played a game of 'I don't speak English' in the car on the way to skydiving, which is on her bucket list. Somi even showed an unreleased self-composed song she recorded.
She introduced her studio, played a situational game with YGX Rijung throughout practice, and shared an episode shopping with AESPA Giselle.
Kpop singer Somi Jeom said, "I hope you think of Somi pretty and cute, cherish and love her like your youngest sister, and listen to Somi's songs a lot."
Read More About: P1Harmony Drops 'Disharmony: Find Out' Highlight Medley
2021 kpop news
,
best kpop news site
,
daily kpop news
,
Korean celeb news
,
KPOP
,
Kpop artist
,
Kpop artists
,
kpop celebrity news
,
Kpop chart and news
,
kpop daily news
,
Kpop idols
,
Kpop latest news
,
Kpop news
,
Kpop news articles
,
kpop news update
,
Kpop recent news
,
KPop treasure
,
Kpop trend
,
Kpop trending
,
KPop trending news
,
Kpop trending now
,
kpop trending update
,
KPOP2021
,
KPOPIDA
,
KPOPNEWS
,
Trending
,
trending 2021
,
trending kpop
,
Trending Kpop news
,
trending kpop update
,
trending news
,
trending update kpop