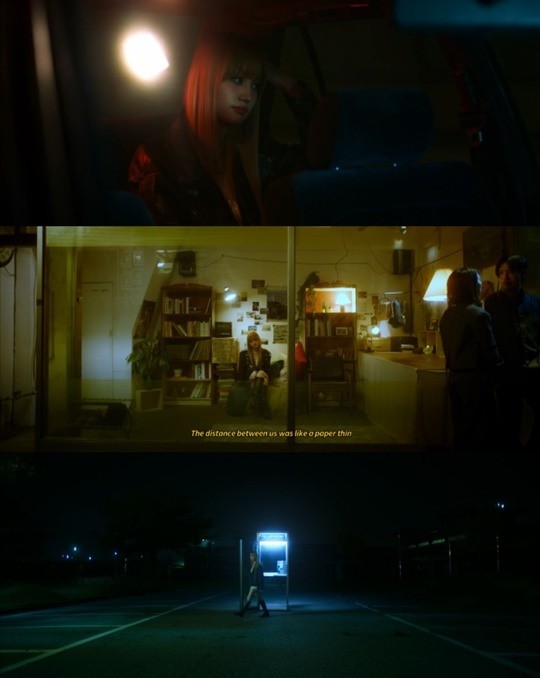 Singer SOLE foretells a strong sense of separation and stimulates curiosity about her new song.
Amoeba Culture posted a teaser video for SOLE's new single 'Why (Feat. Gaeko)' through the official social media at 6 pm on June 22nd. The official release will be on June 23rd.
The video begins with SOLE's calm English narration. Then, she expresses her affection by saying, "The moment we passes by / The distance between us was like a paper thin."
Then, SOLE wanders alone in a dark street at night, in an empty public phone box. The sad expression adds to the immersion.
Here, the back view of Dynamic Duo's Gaeko walking alone in the alleyway is also attracting attention. Gaeko also appeared in the music video to show off his extraordinary support. After about three years, fans show interest in what he will show in the main story after working with SOLE again.
'Why (Feat. Gaeko)' is a song inspired by scenes where male and female characters pass through a large crowd. It includes the unique atmosphere of the movie 'Chungking Express.' As such, the music video teaser provides dreamy and sensual visual beauty, raising expectations.
Also, attention is focussing on how many people will be blown away by SOLE's first heartbreaking song, 'Why (Feat. Gaeko)' after her debut.
SOLE will release her new single 'Why (Feat. Gaeko)' on various online music sites at 6 pm on June 23rd.
Read More About: 'Beautiful Mint Life 2021' To Be Held At Olympic Park From June 26 to 27
2021 kpop
,
2021 kpop news
,
2021 kpop news updates
,
2021 kpop updates
,
2021 news kpop
,
2021 updates on kpop
,
KPOP
,
Kpop 2021
,
Kpop artist
,
Kpop artists
,
Kpop idols
,
Kpop news
,
kpop SOLE
,
Kpop trend
,
Kpop trending
,
KPop trending news
,
Kpop trending now
,
KPOP2021
,
Kpopall
,
KPOPIDA
,
KPOPNEWS
,
Kpopnews 2021
,
singer SOLE
,
sole
,
SOLE feat. Gaeko
,
SOLE singer
,
SOLE_WHY
,
trending 2021
,
trending kpop
,
Trending Kpop news
,
trending kpop update
,
trending update kpop