Ghost composers and ghost songwriters were shocked. It is involving the top-notch artist agency, SM Entertainment.
On SBS' 'Unanswered Questions,' which aired on May 8, we found out the identity of a ghost songwriter related to a large agency.
K-pop groups such as BTS, Blackpink, TWICE, and SEVENTEEN are rocking the world. K-pop, which caught the eyes and ears of people worldwide through the imagination and cooperation of numerous artists, has become a culture. The K-pop industry ranked 6th globally, and the proportion to the size of the market, creators' profits, and reputation are growing. But there were things we didn't know behind the colorful lights.
In April, 45RPM Hyunbae Lee died suddenly. His elder brother, DJ DOC Haneul Lee, revealed in a live broadcast that "Changyeol has never written any lyrics. I'm sorry to Jaeyong. You can't write one out of eight words. Hyunbae did everything for 20 years." It is said that Hyunbae Lee is a ghost songwriter or the so-called 'ghostwriter' who wrote songs on behalf of DJ DOC members. Haneul Lee's revelation shocked the people, and the three DJ DOC members have been silent since then.
An anonymous informant who introduced himself as a veteran K-pop composer sent an e-mail to 'Unanswered Questions' saying that ghostwriters are hiding all over K-pop. He is referring to a person who doesn't create any song but gains fame and takes copyrights. A ghostwriter, in another sense, is someone who benefits from other people's creations. The informant said, "The blood and sweat of real writers are behind fake people enjoying wealth and honor so easily." There were many difficulties in finding the substance. Everyone has heard of it, but no one has ever seen it.
On March 29, there is an article posted on SNS, raising suspicions of the K-pop songwriting academy. The revelation made by an anonymous agent was that songwriters who wrote the lyrics themselves were not enjoying legitimate rights because of the opaque operation of the songwriting academy. It has also been argued that there are ghost songwriters who do not participate in the lyrics but are listed in albums and copyrights. The songwriting academy serves to train new songwriters. After a certain period of training, they give a demo song received from the agency and give them a chance to debut. Most songwriting academies have denied the allegations, saying "it has never happened at all."
After much consideration, there's an informant who had the courage to speak up. Seonah Park (pseudonym) said carefully, "The industry is small, so if the interview is known, you may not be able to receive the song." Seonah Park attended the songwriting academy run by Director Kim. Park added, "The songwriter was famous among aspiring students. If you look at his name, it's very fancy. EXO, Red Velvet, and Daniel Kang, recently. They are taking classes from that person. I was proud at first. There are only 400 K-pop songs written by Director Kim alone. Seonah Park pointed out that "His name always goes up, and I wondered what he participated in the lyrics. If you are co-writers, you have to work together." Park is pointing out that Director Kim attached his name as if he were the main songwriter in numerous co-writing works and takes copyrights. Also, Park said, "You only have to fix a certain part and take the share? Only a little is frankly not." In the case of multiple songwriters, it is a common method to divide the copyright fee by the number of letters and words, but Director Kim is said to take the copyright to an unfair share.
The songwriter who signed a publishing contract pays a fee to the academy. Former students said, "It is structured so that you cannot raise a problem. If you don't go to the head of the academy, the lyrics cannot come out. If you raise a problem, you may think that you're going out. In fact, I heard you say, 'I won't let the industry work again.' It was difficult to raise a problem because the lyrics were delivered to the agency only through Director Kim."
In some cases, the entertainment agency did not deliver the lyrics fee. It is said that he did not know that all the agencies paid the lyrics to the songwriter. The informant said, "When the song was adopted, SM Entertainment pays about 1 million won per song as the production cost. Depending on the agency, it may or may not give. We thought we were not going to receive it, but SM Entertainment made a deposit every time they adopted a song." When the media began to cover it, Director Kim will ask for a fee. In the recording file obtained by 'Unanswered Questions,' Director Kim clarified, "I just took the lyrics fee I received from SM over the past five years without paying my team, students, and writers. I thought I'd fix what's wrong quickly."
An anonymous songwriter agent raises another suspicion. They haven't written the lyrics, but they're the ghostwriters who put their names up. It is not a songwriter whose rightful rights have been deprived but a songwriter whose name exists but whose substance is unclear.
Korea Music Copyright Association named 'S' on that day, and it had two stage names. 'S' had a peculiar history. Dasol Song (pseudonym) pointed out, "The strange thing is that I only write EXO songs. But, from time to time, BoA songs appear. I was a songwriter who only writes EXO songs, but other songs appeared like a comet. If you are real, you are a genius." Also, there is always Director Kim's name as the co-songwriter. Regarding 'S,' who was named a ghost songwriter, Director Kim said, "I have a friend who works at the workshop."
The A&R team is a department that plans and manages the overall album. There are rumors in the industry that the agency and the ghost songwriters are related. Some officials said, "SM has an in-house staff of songwriters. These days we rule them out completely and thoroughly. It's a company rule. If there is, just put it out. SM is comprehensive in that area." It is explained that it is practically difficult to happen in SM Entertainment, an agency where the songwriter participated.
'Unanswered Questions' received an email from an anonymous songwriter. It was a secret conversation between Director Kim and Mr. Choi (pseudonym). The opponent was Mr. Choi, the head of the SM Entertainment A&R team. A conversation about 'S' appeared. As rumors have it, Mr. Choi, the head of the A&R team of a large agency, created a ghost songwriter with Director Kim. Industry officials who saw the conversation said, "I can see the situation of creating a ghost songwriter. I think he made a stage name because he thought that his wife's name would be revealed." Mr. Choi likely made a ghost songwriter in the name of his wife. If so, then who wrote the lyrics? A conversation that seems to have been made by Mr. Choi, an agency employee, appeared. There are a total of 15 songs that Mr. Choi and Director Kim worked together. There is no law that you shouldn't write lyrics just because you are an employee of the agency's A&R team. However, it is pointed out that it is unfair. An industry insider said to Mr. Choi, "He is one of the leading leaders in the SM A&R team. He is the unit leader. There is one person above the unit leader. It has to be the backbone in adopting all songs in the album. Indeed, we cannot go up without going through his hands. It was also possible that Mr. Choi chose the lyrics he wrote without going through fair competition, or intervened in the final selection after previewing Director Kim's lyrics."
Why did Director Kim and Mr. Choi dare create 'S' and participate in the lyrics writing? One informant said, "There are many cases where the agency has the copyright. You can see it as a bonus concept. It is a cost that keeps coming in even if you don't work. Some people collect the royalty fees."
There have been similar cases in the past. The stage name of the wife of the agency's representative was attached to the IZ*ONE song. When the controversy arose, the representative apparently participated in the song work but apologized for failing to keep the producer's dignity and agreed to give up the copyright.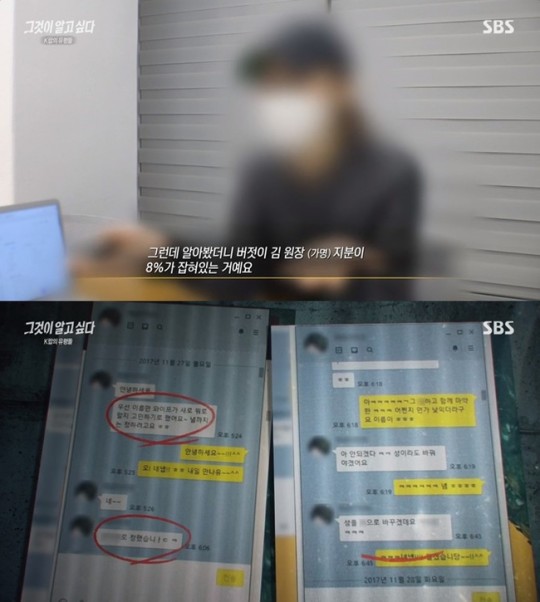 Director Kim explained in a letter that 'S,' who was named a ghost songwriter, was Mr. Choi's wife, who leads A&R. He knew her before establishing the academy. 'S' belongs to the academy and has never asked Mr. Choi for lyrics through her. Even if the explanation is true, the problem still exists. Officials pointed out, "My husband belongs to A&R, and he knows everything. Isn't this a different story?" If his wife wrote and adopted a song for an artist and the top idol song she was in charge of, it would be unfair from the beginning, no matter who sees it.
This suspicion was not the first time in SM Entertainment. An informant said, "A few years ago, there was a person who raised the price of their name while working on artists' songs, like Girls' Generation and Taeyeon at a certain time." In the process, there was a relationship with A&R. "Information about the songwriter is 001 and 002. We think it's one person, but in fact, two people were sharing copyrights." 002 was a copyrighted stage name for the mother of an A&R employee of the Girls' Generation. Even now, if profits are generated from the song, songwriters 1 and 2 earn profits together.
SM Entertainment said, "We recently found out that the songwriter of the stage name of 'S' is Mr. Choi's wife. It is not appropriate for Mr. Choi to participate in the selection of the lyrics. We took responsibility for not notifying the company and decided to disqualify him from his position. As for what happened six years ago, he announced that the person had resigned without being clearly identified."
"What's clear is that both the artist and the fans are victims. "The singers mentioned are not related to the problem at all, so I hope you don't misunderstand."
Through proof of contents, 'S,' who was designated as a ghost songwriter, has never posted a name or took a stake without participating in the song. However, since 'S' is a family member of the A&R staff of SM Entertainment, it was private work. Among the songs requested by the academy, there were many songs that 'S' participated in, but there were no illegal transactions or unfair things," they emphasized again.
Even bigger problems remain. They are ghost composers. Music director Sung-il Park, who has made famous drama music, said, "I have a suggestion, I will connect my juniors with a famous director. Go into a co-composition. There are 600 co-compositions released a year, and they won't even be able to make a machine out of it. They don't have the energy to make a living right now. It's a strange structure that we have to be dragged into even though we know it."
There are even people who couldn't have the rights even though they made and sang songs. Songcheol Kang (pseudonym), composer and guitarist, said, "If you write a melody together, write chords, and polish the accompaniment, there is a range of arrangements. But there are about a dozen songs without my name. It is the head of the agency that took his rights."
Yoonah Lee, a college student who participated in a drama OST recently, said, "It was a former professor at school. I received my homework for writing a song, but I liked the song I wrote, so we started working together. It was released as a drama OST, but the copyright was shared by the professor who was the music director of the drama. The cost of several months of writing work was also disastrous. I wrote 25 songs for 5 to 6 months but received 1 million won. Yoonah Lee said, "I should not do this much."
"Quite a few composers were claiming this damage. What's surprising is that the first stories of the victims who brought up courage despite fear were all the same. "The biggest retaliation is that the industry is too small to work. I'm worried that it will be a problem in the future." The request is not to reveal what kind of song they made and what kind of damage they suffered.
Jaegon Kim, who runs a drama OST production company, said, "If you allow a new composer to participate in the drama OST with his song, you give him half the copyright. Many people do it this way. This is called 'business.' But, what's happening is, the rookie composers first proposed a transaction with their own copyright. It is a bitter reality created by wrong practices.
Composer Inyoung Kim, who had been fighting hard at the center, filed a lawsuit against the company six years ago. Working as a composer for the company, Inyoung Kim lived like a machine that produced songs for five years. Inyoung Kim worked for an average of 10 hours a day for five years, but 800,000 won was put on hold for 5 years. Inyoung Kim made several popular drama OSTs, but only the company's representative was credited, and the name was nowhere to be seen. Composer Inyoung Kim revealed the reason for the lawsuit, saying, "The last thing I asked for was that 30 composers were asked to replace all the names registered in the Copyright Association with the company name. It was permanently attributable to the company. There were more than 2,000 songs."
The reality is that it is not easy to claim legal rights for creative works. It is necessary to present proof of composition, lyrics, and production, but it is difficult to present evidence as time passes. For the K-pop culture created by the cooperation of talented artists to continue to be loved, we should not neglect to build a healthy system. It is also time to speak up, though difficult, to change the bad practice.
Read More About: SM Entertainment A&R Team Controversy
2021 kpop
,
2021 kpop news
,
2021 kpop news updates
,
2021 kpop updates
,
2021 news kpop
,
2021 updates on kpop
,
issues in kpop
,
KPOP
,
Kpop 2021
,
Kpop artist
,
kpop issue updates
,
Kpop issues
,
Kpop news
,
Kpop trending
,
KPop trending news
,
Kpop trending now
,
kpop trending update
,
KPOP2021
,
KPOPIDA
,
KPOPNEWS
,
Kpopnews 2021
,
Kpopnews2021
,
Trending
,
trending 2021
,
trending kpop
,
Trending Kpop news
,
trending kpop update
,
trending news
,
trending update kpop