The rookie Kpop group SKYLE has proven the potential of the next-generation 'KPop Queen.' SKYLE (Erin, Chaehyeon, Ginny, Ujeong) sang their debut song 'FLY UP HIGH' on Mnet's music program 'M Countdown' on September 2nd. This is their first performance on 'M Countdown.'
It was a cool live performance. The members showed off their professional singing skills with a rookie spirit who debuted a month ago. Their performance was also intense and powerful.
Their visuals were also unique. SKYLE members, who are 169 centimeters tall on average, showed an original 'Queen' concept on every performance. In 'M Countdown,' Kpop fans enjoy the fusion Rococo fashion reminiscent of the queen's coronation ceremony.
Also, the Kpop group SKYLE's stage presence was outstanding. The elegant yet charismatic four-member, four-style expression acting proves the next-generation 'KPop Queen' stood out. The members added their teamwork to complete a perfect performance.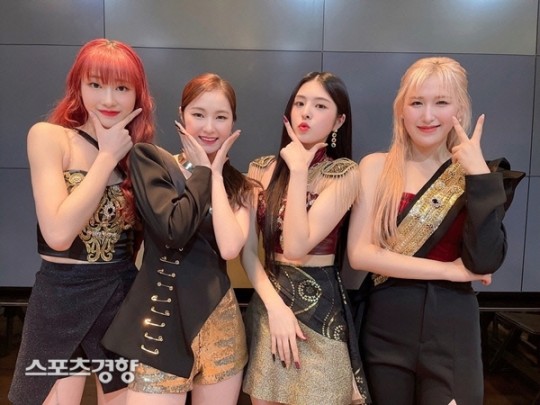 After their first broadcast on 'M Countdown,' SKYLE said through their agency Good Luck Entertainment, "It's almost a month since our debut. We are happily promoting thanks to the support of our fans. We will show you even better performances, so please look forward to it."
Meanwhile, SKYLE released their debut album 'FLY UP HIGH' with the title track of the same name on August 4th. Recently, China's global sportswear brand, 'STARTER,' selected them as a model.
Read More About: BLACKPINK Lisa, 'LALISA' Third Teaser Video Released!
fly up high
,
GIRL GROUP SKYLE
,
KPOP
,
Kpop artist
,
Kpop artists
,
Kpop latest news
,
kpop latest updates
,
Kpop news
,
Kpop recent news
,
KPOP SKYLE
,
Kpop trend
,
Kpop trending
,
KPop trending news
,
Kpop trending now
,
kpop trending update
,
KPOP2021
,
KPOPIDA
,
KPOPNEWS
,
latest kpop news
,
latest kpop updates
,
NEW GIRL GROUP_SKYLE
,
recent kpop news
,
SKYLE
,
SKYLE GIRL GROUP
,
SKYLE UPDATES
,
Trending
,
trending 2021
,
trending kpop
,
Trending Kpop news
,
trending kpop update
,
trending news
,
trending update kpop